Roussillon revisited
Saturday, October 07th , 2006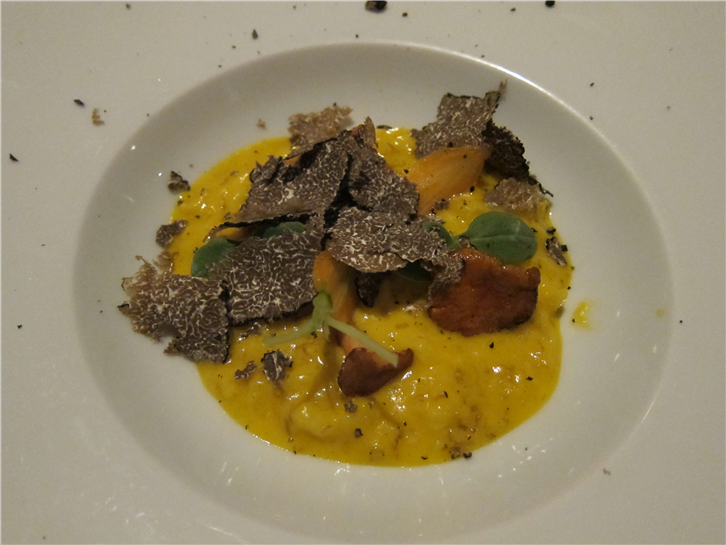 This week saw the publication of the 2007 Good Food Guide, which is comfortably the best of the UK food publications. At the top end of cuisine it has to be said that there has been little change. The top places (scoring 9/10) are still Gordon Ramsay, the Fat Duck, Winteringham Fields and Le Manoir au Quat' Saisons. Similarly there is just one change at the 8/10 level (l'Enclune in Cumbria is promoted to 8/10), reflecting the fact that most new places this year have been at the mid-range e.g. bistros like Windows and Arbutus, or Asian themed food destinations like Gilgamesh and Nobu Berkeley. London increases its domination of the UK food scene with 262 entries, with the next best for entries being Manchester at 26 entries. London managed 27 new entries, more than Manchester's entire rosta. The highest new entry in London was Galvin at Windows with a slightly generous 6/10.
I had an excellent meal this week at Roussillon, which I feel is an underrated place (5/10 in the Good Food Guide). Tucked away in a residential street in Pimlico, Roussillon serves ambitious French cooking and has received a Michelin star. You get the works here, with amuse bouche and even pre-dessert. They actually make the bread on the premises (a rare thing these days) and produce a fine selection of mini-loaves, from classics like olive bread and baguette to chorizo bread and bacon and onion bread. I was impressed with the quality of a saffron risotto (pictured), which had silky texture. My mallard was just a fraction overcooked but the red cabbage with it was an example of how to cook this underrated vegetable. There is a delightful dessert menu with half a dozen things that are very appealing. I had a chocolate croustillant "Louis XV" (the chef once worked for Alain Ducasse) and I was surprised at just how good a reproduction of this classic dessert was: a crunchy base with rich, melting chocolate decorated with a little gold leaf. To be able to reproduce a dish from a 3 star Michelin restaurant and get it almost as good as the original shows genuine talent in the kitchen. I think this place is cooking comfortably at 16/20 level, and so is a bit of an undiscovered gem.
Chiswick continues to add to its eateries with a refurbishment of the old gay pub the Birdcage into a gastropub called the Roebuck. I generally find gastropubs a source of continual disappointment, often serving lazy food at surprisingly high prices, using the "pub" setting as a way of luring people to part with their money for dishes made with ultra-cheap ingredients. However, this was not the case here, with a good salad of artichoke hearts, a decent risotto of wild mushrooms and the only flaw being a poorly made lemon tart (hard pastry, sugar not properly caramelised). Still, despite this error, overall this was verging on 1/10 in the Good Food Guide, and better than the vast majority of gastropubs.
This week also saw the first of the Cox Orange Pippin apples, which are one of the great compensations of an English autumn.