New and Old Restaurants in London
Saturday, April 16th , 2016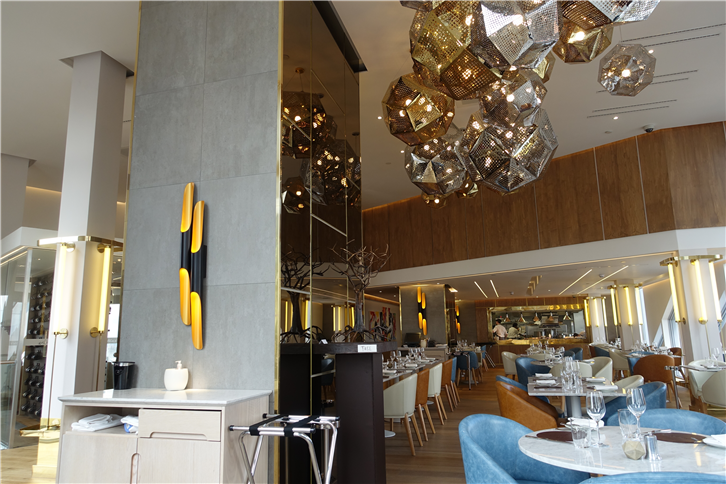 Urban Coterie (pictured) is perched on the 17th floor of the Montcalm Hotel near Old Street roundabout. It has an attractive dining room with picture windows looking out over, well, looking out over Shoreditch, sadly. The cooking is capable enoiugh under a new head chef, with a particularly nice pork haunch with Pommes Anna the highlight of the meal. There is a £22 set lunch available, and even the evening prices did not seem excessive, despite its lofty location.
Il Portico is a family-run Italian restaurant in Kensington that next year will have been running for a remarkable fifty years. The restaurant imports good quality produce from small suppliers in Emilia Romagna, so for example there is excellent culatello ham from Parma. The menu is appealing and the cooking capable, and the wine pricing is kindly. I find it interesting that this restaurant, which appears to be invisible to social media and seems to do no marketing whatever, was completely packed on a Monday night, with tables being turned around us. They clearly have a formula that is very attractive to local diners, and I would certainly be happy to return.
Benares in Berkeley Square has been running for over a decade now. It has a smart dining room and an innovative take on Indian cusine. You will see fusion dishes like chicken tikka pasty, and a biryani dish uses venison rather than a more traditional meat such as lamb or chicken. Service is very slick indeed and the food is better than I recall, though the prices are as high as you would expect in Mayfair. Personally I would rather eat Indian food in Southall at a fraction the price, though clearly if you can afford to live in Mayfair then keen prices will not be your main dining criteria.
I have a soft spot for The Crown at Burchetts Green, a pub near Maidenhead run by an amiable, mildly eccentric and highly ommitted chef who works essentially single-handed in the kitchen. Such an arrangement is tough, and yet the standard of food that emerges is high, and he manages to source very good produce. Prices are keen and there is an eccentric and fairly priced wine list. In an era of chains and franchised spin-offs The Crown is definitely a one-off, and is all the better for it. It is well worth a visit if you are ever in the area.
I also enjoyed another meal at the low key but charming Watermans Arms, a fairly run-down looking boozer in Brentford where the landlord and chef Gordon Fry (who has a Japanese wife and lived in Japan himself) serves izakaya food alongside pub staples like fish and ships. He cooks well and is a very welcoming host. This is not a destination restaurant but I like it very much, and it represents very good value.