1 Lombard Street shows how not to do front of house
Friday, November 17th , 2006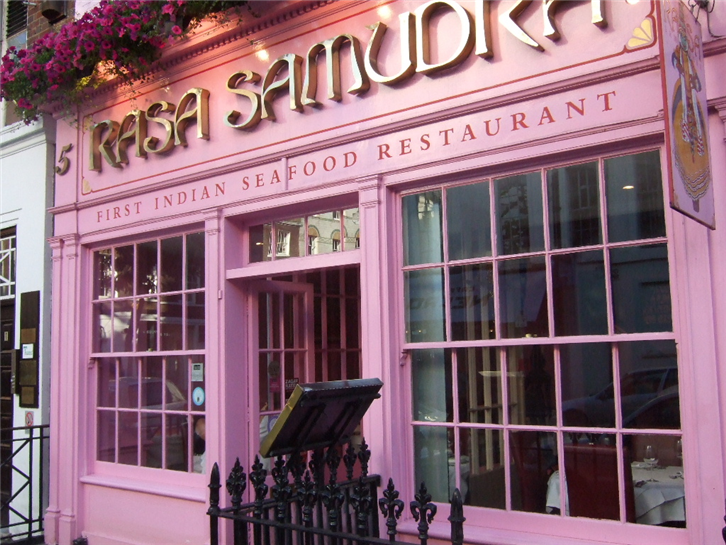 Just by Bank station is 1 Lombard Street, an ambitious French restaurant run by Helmut Berger, and with a Michelin star to boot. It has a large and lively bar (this evening, two of the city types on a date at the bar were sufficiently into each other that their activities would probably have resulted in a lynching in most mid-West states). We went through to the much more sedate dining room, where the sensual pleasures were to be found on the plate. We tried the lengthy tasting menu, which at nine courses for £45 is remarkably fair value. See the London section of this site for a fuller write-up, but a highlight was a fine feuillete of smoked haddock, served with a quails egg and a little mustard sauce, adding just the right amount of bite to balance the haddock and the egg. Service has been pretty frosty on both my visits here, and tonight they excelled themselves by refusing to allow one person at our table to have the tasting menu since my wife does not eat meat and so would mean having to substitute a couple of dishes. This was really outrageous in my opinion, and indeed I can never recall encountering anything so inflexible in all my years of dining. The food was good at a 16/20 level on average, but they have a serious attitude problem here. Last time we turned up exactly on time for a late (21:45) booking and the staff were clearly livid that we had arrived at all and kept them from an early night as we were the last people to arrive; the restaurant officially closes to new diners at 22:00 but if looks could have killed then you would not be reading this blog. I really hope they try something similar with the Michelin inspector next time.
I had two good Indian experiences this week, firstly with a trip to the ever-reliable Brilliant in Southall, which I have written about before. The other was going back to Rasa Samudra in Charlotte Street. This is the best of the Rasa group of restaurants, and again they showed their class with tasty Mysore bonda and excellent uttapham (Indian pizza made form rice flour). Indeed the uttapham was as good as any I could recall, while paratha bread is also superb here. Even the popadoms and pickles are a class apart from most places.
I also went back to the Fish Ship on St John Street, which I have discovered over a few visits does great fish and chips, but nothing else that is as good. Again here the haddock was delicious, with a crispy batter, good chips and home-made tartare sauce. The bought-in crusty bread is also excellent here. This is an excellent choice for a dinner after the ballet at Sadlers Wells, but whenever I stray from fish and chips here to more ambitious things the standard is not the same, so stick to the simple life and you will be rewarded.
Stay tuned for a review of Tom Aiken's new venture next week.