I brave the hordes at two of London's trendiest new restaurants
Friday, January 20th , 2012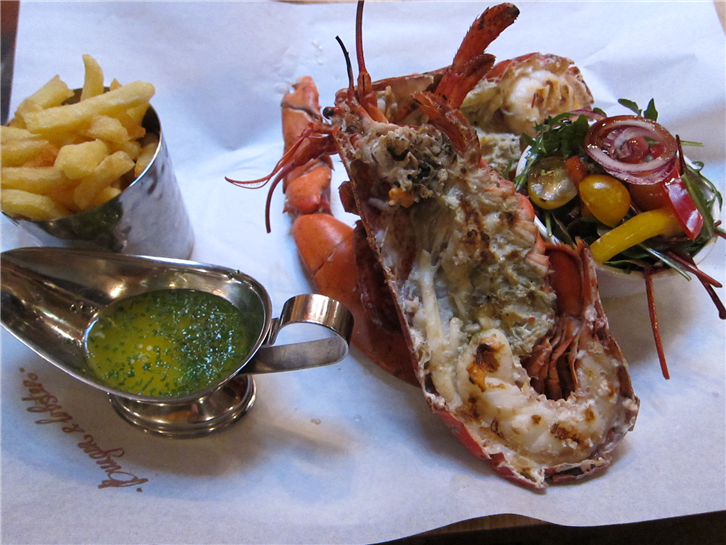 Novikov is the first restaurant venture outside Russia for serial restaurateur Arkady Novikov, who has dozens of restaurant of assorted styles in Moscow and St Petersburg. We ate at the pan-Asian restaurant (there is also an Italian restaurant in these large premises), smartly decorated and clearly aiming at the same clientele as Nobu, Zuma and the like. The food that we tried was actually quite capable (the chef was previously at Roka) but it was not as consistently good as at restaurants like Hakkasan or Zuma. Still, the har gau steamed dumplings were excellent, as were the Singapore noodles, and prawn tempura was fine. The place, open just a few weeks, was already completely full, turning tables despite the considerable size of the restaurant. The capacity of Mayfair to absorb a seemingly endless number of expensive restaurants at a time of economic doom and gloom is pretty remarkable, suggesting that the local economy bears little resemblance to the mainstream one.

Burger and Lobster is the little sister of steak house Goodman, but has a simple concept: it serves burger, lobster (illustrated) and that is it, for a flat price of £20 (including chips and salad). This simple menu means that the kitchen can spend some effort in getting its dishes right, and certainly sourcing of the products shows the same care as the main Goodman, especially in the choice of beef. The burger eaters must be subsidising the lobster eaters, but as they are already getting through a ton of lobster a week I am guessing that must get be able to get a good deal on it. Over two visits my experience was reasonably consistent, and the place is already doing a roaring trade, just three weeks after it opened.

The Millbank restaurant Atrium has now recruited chef Johnny Mountain (of The English Pig) to head up its kitchens, though he didn't put in appearance the night that I ate there. Atrium is an odd place, tucked away inside an office building, with an attractive, light space but suffering from a poor reputation in its previous incarnation and a stealth marketing campaign for the new regime. The food was all over the place on the night of my visit, with some lacklustre savoury courses but very good desserts, and to be fair the food was at quite a moderate price for the skill level shown. The restaurant apparently does most of its business at lunch, but I had the impression this was very much early days, and given the obscure location this needs more consistent cooking and a much higher profile marketing campaign.

Blah Blah Blah has been serving vegetarian food in an unglamorous Shepherd Bush since 1990, quite an achievement in an era when few restaurants last anything like that long. What is also unusual is that the chef does not stick to a particular cuisine, but serves dishes that may be Indian, Mexican, Persian or Italian in origin. The meal I had this week was a fraction less good than my previous one, but was still very pleasant: a capable Kashmiri vegetable curry being the best dish. Although they do now serve alcohol you can still bring your own wine, as we did, for a nominal corkage charge. Our waiter was friendly, and the bill very modest: a nice neighbourhood restaurant.

I am honoured to add the site a chef interview with Christophe Saintagne, head chef of the flagship of Alain Ducasse's restaurant group, Plaza Athenee in Paris.

Next week I will mostly be eating Indian food.