Take your Pic
Saturday, February 11th , 2017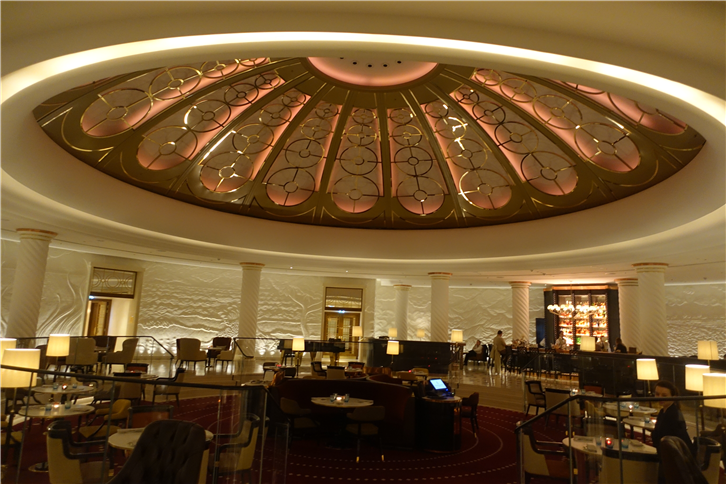 One of the highest profile openings in London this year is La Dame de Pic, the first venture in the capital for Anne-Sophie Pic, whose restaurant in Valence holds three Michelin stars. La Dame de Pic is in the newly opened Four Seasons hotel near the Tower of London, an impressive looking hotel that at present is going through a soft opening. The kitchen at La Dame de Pic is already firing on all cylinders, with some impressive dishes such as superb langoustine tails and flavoursome Challans chicken. Service was slick and the dining room very smart, so although this is hardly a cheap outing it seems likely to gain a Michelin star in due course.
Kashmir in Putney notionally specialises in the cooking of that northern region of India, though there are a lots of familiar dishes too on the lengthy menu. Sadly the reality did not really live up to the promise. Dubious lotus root kebabs and rather stringy chicken let things down, as did an oily dum aloo. There were some decent dishes, in particular an excellent romali roti, but overall this was really just a fairly ordinary local restaurant rather than somewhere to journey to.
I had another very good meal at Ormer Mayfair, this time trying the set lunch menu. Guinea fowl was excellent, as was salt-baked sea bass and a take on tiramisu for dessert. Just as with my first meal here the standard of cooking was high and the service was excellent. I am puzzled as to why this restaurant has seemingly been launched under the radar from a press viewpoint. There are so many poor London restaurant openings with overhyped expectations that when we actually get a good one like this it is a shame not to make more of a fuss about it.
I also enjoyed a return visit to Galvin at Windows, which is perched on the 28th floor of the Hilton Hotel on Park Lane. There was a very good artichoke risotto and also a nice scallop dish, and desserts were on form too. Service is silky smooth here, and although you clearly pay a premium for the location, at least the food actually delivers.
The Michelin 2017 France guide was announced. A third star for 1947 (Yannick Alleno) in the ski resort Courchevel, a dozen new two stars and 57 new one stars were awarded. France now has 616 starred restaurants, up from 600 in 2016. If you are pondering a visit to the new three star 1947 then bear in mind that it is only open from mid December to early April each year, in the ski season.
This is last of the 2017 guides to be published except for Scandinavia and the Main Cities of Europe guide, which covers some other cities that do not have a full country guide e.g. Prague, Athens, Warsaw, etc. Across the globe there were three deletions from the three star ranks: De Karmeliet in Bruges, which closed when its chef retired, as well as Esaki, which is moving and Fujiya 1935 was demoted to two stars. New places that were promoted were Quince in San Francisco, The Fat Duck in the UK (which was reinstated after being closed for a year), Lasarte in Barcelona (sister of Martin Berasategui) and 1947 in Courchevel. There were also some new guides that had three star places: Joel Robuchon in Singapore, Gaon and La Yeon in Seoul and also Yamazaki in Toyama, a one-off "special edition" guide whose stars will expire a year after publication. Finally there is Tang Court in Shanghai, sister of the dismally overrated Tang Court in Hong Kong, so I am not holding my breath about the prospects of its sibling being any better. There are now 27 three star restaurants in France. By my count there are 85 two stars in France now (seven places were deleted or demoted compared to 2016, as well as 23 deletions at the one star level).
One other thing of note about the 2017 guide was that it represented 40 unbroken years of 3 stars for Michel Guerard and his restaurant Pres des Eugenie. Mr Guerard is 83 years old but seems always to be in his kitchen (certainly for my many meals there). It was 50 years of 3 stars for Auberge de l'Ill in Alsace too, but this has seen different chefs leading the kitchen over the years, in a similar way to Troisgros. This makes Michel Guerard's achievement all the more remarkable. The only chef to have held three stars for his restaurant for longer is Paul Bocuse in Lyon, with three stars since 1965. He is 91 years old today, and although he is still in charge he does not appear to be in the kitchen day to day any more, at least not when I was last there.