A Trio of Three Stars in Southern France
Saturday, July 15th , 2017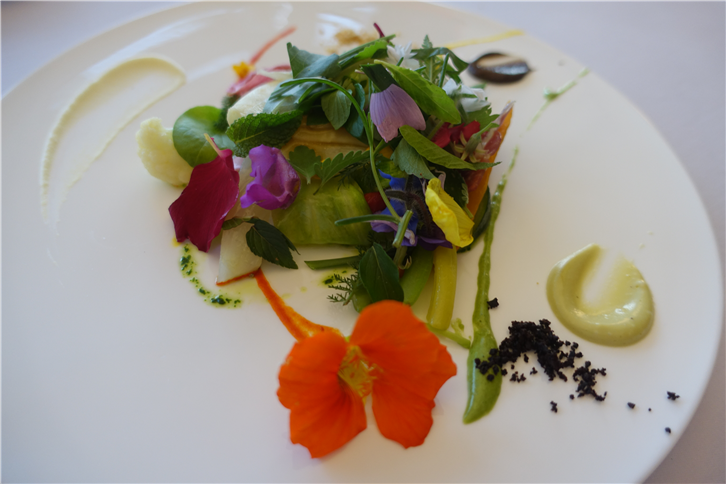 The three Michelin star restaurants outside of Paris tend to be scattered in out of the way places. This is particularly true of the south of France, where few are within reach of an international airport. Bras is a case in point, located on a bleak hillside on the Massif Central that is a long drive from, well, pretty much anywhere (206 km from Toulouse, for example). It is nonetheless one of the most difficult reservations in France to get, and has had a considerable influence on cuisine globally. Its complex gargouillou dish of (mostly) vegetables (pictured) is one of the most copied of any restaurant dish, and Michel Bras was voted most influential chef in the world in a 2016 survey of 530 chefs who themselves have held at least two Michelin stars. These days the kitchen is run by Sebastian Bras, and although it is certainly a very accomplished restaurant, over my three visits there I have never quite seen it in the world-beating light that many do. Nonetheless it has a lot to offer, with a striking modern building, silky smooth service and some very fine dishes.
Less well-known in the English speaking world is Regis et Jacques Marcon, another father and son operation. This is also located on a hilltop, this one notorious for its damp microclimate, which happens to make it a great place for mushrooms. This ingredient dominates the menu here, and although autumn is a better time to go for the funghi, even the summer menu had plenty of girolles, for example served with terrific John Dory. Quail pithivier showed that the kitchen has plenty of classical skill, and as a bonus the wine list has plenty of genuine bargains at the high end of the list.
Even less famous outside of France is Auberge de Vieux Puits, located 148 km from Toulouse in the tiny town of Fontjoncouse. The style of cooking here is much more modern in technical terms, with plenty of theatricality on display as the menu unfolds. A scallop shell alongside other shellfish actually melts when a consommé is poured over it, and few ingredients are quite what they seem. Normally I am quite sceptical of such cheffy trickery, as usually when this happens the trick is clever enough but is often at the expense of flavour. However the kitchen here is in complete command, and flavours are terrific once you get past the gimmicks. Lobster with crystallised courgette flowers was delicious as well as pretty, and an eel dish had a stunning sauce. Desserts were also spectacular.
These restaurants are not easy to get to, but are well worth the effort of the trip.