Visiting Kyoto
Saturday, September 22nd , 2018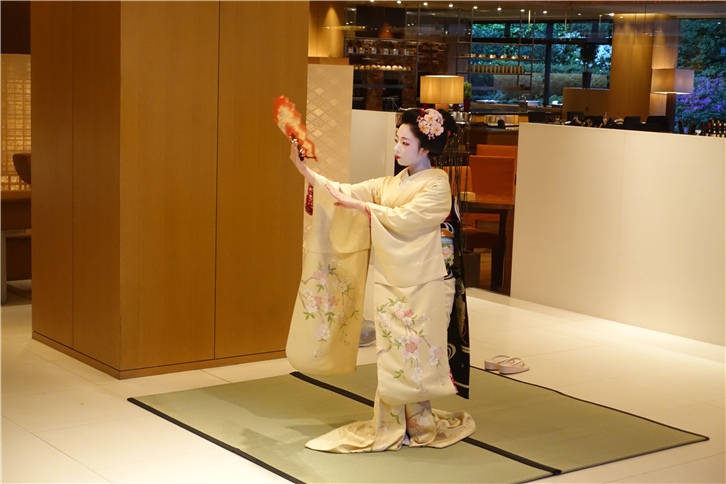 Kyoto was the capital of Japan from 794 to 1868, and is one of the few cities in Japan where you can see large numbers of historic buildings like temples and castles. It has seventeen UNESCO world heritage sites and two thousand temples and shrines, but we are lucky to be able to see it at all. It was spared bombing during the Second World War by Secretary of State Henry Stimson, who had taken his honeymoon in Kyoto in 1893 and had visited the city two further times in the 1920s. He vetoed its bombing despite repeated attempts by the Pentagon, who even put it at the top of their initial list of targets for the first atom bomb before Stimson intervened once again. Consequently Kyoto, untouched by the war, is a window into old Japan, with the lovely Gion district where geishas still train, through to the warren of streets in the old town with its little independent shops. For example, the tea shop Ippodo has been selling packets of tea since 1717 on the same street, and this is just one of many establishments with great lineage.
Kyoto is the home of kaiseki cuisine, the most formal Japanese culinary style, and the city has a host of such restaurants. The latest to earn three Michelin stars is Iida, a tiny restaurant seating just four people at a counter with one additional private room. The meal was pleasant enough, though it was a long, long way from the best kaiseki meal I have eaten. The chef is fascinated by ceramics, and serves his food on lovely plates that are often painted by well known artists, with some of the plates dating back centuries. In food terms though, it ranked for me a long way behind other nearby kaiseki restaurants such as Kitcho and Mizai.
Kyoto has so many kaiseki restaurants that eating there night after night can seem somewhat repetitive, especially as the ultra seasonal nature of the cooking means that you will likely encounter the same ingredients night after night, albeit prepared in different ways. On this trip I explored some alternative offerings. Aca is a Spanish restaurant with some Japanese influences, serving dishes like crab paella. It was excellent, and well worth trying for a much sought after reservation. Chimera is an Italian restaurant in the Gion district in a lovely traditional wooden townhouse on the edge of a park. This was also very good, and had a surprisingly extensive and kindly priced list of mostly Italian wines. I also revisited a simple Indian restaurant called Mughal, which is unremarkable but was one of the very first Indian restaurants in Kyoto.
We stayed at the Okura hotel, the grand dame of Kyoto hotels, which used to be the poshest in town with a hotel on this site since 1888, though the current Okura dates back to 1962. These days there are swisher alternatives, such as the Ritz Carlton on the river, which is worth popping into if you have a sweet tooth since it hosts a Pierre Herme pastry shop. There is also a nice pastry shop in a side street near a covered market called Maison de Frouge, which specialises in strawberry pastries.
My visit to Iida concluded my visits to the set of three star Michelin restaurants added in the 2018 guides, so for a brief time I have once again been to every three star restaurant in the world, something I first did in 2004 and which I have kept up since roughly every two years. However the 2019 season has already started with the new Washington DC 2019 Michelin Guide, in which the Inn at Little Washington was elevated to three stars. I will visit there next spring. In terms of the 2018 three star additions it has been a decidedly mixed bunch, with only Atelier in Munich, Frantzen in Stockholm and Joel Robuchon in Singapore seeming to me indisputably of "true" three star standard, though I very much enjoyed Ultraviolet and Inter Scaldes, as well as Abac. For me the rest were on average two star quality territory or worse, with some bizarre choices like Le Palais and Aponiente. Another curiosity this year has been the demise of several three star restaurants. Joel Robuchon Singapore closed, presumably due to its weird location, while La Vie in Osnabruck lost its main investor and folded. Chihana in Kyoto burned down, Grace in Chicago folded after its chef and owner fell out, and Sant Pau will close permanently in October, as apparently will Hertog Jan. Four of these at least illustrate the difficulty in making a consistent profit in fine dining, even at the very top. Hopefully Chihana will reopen at some point, though reportedly this will not be at its old location. I can remember when Pierre Gagniare's three star in the countyside closed and it caused shockwaves in the restaurant world. This year six separate three star restaurants will have disappeared for one reason or another.