A visit to Nottingham
Saturday, May 14th , 2011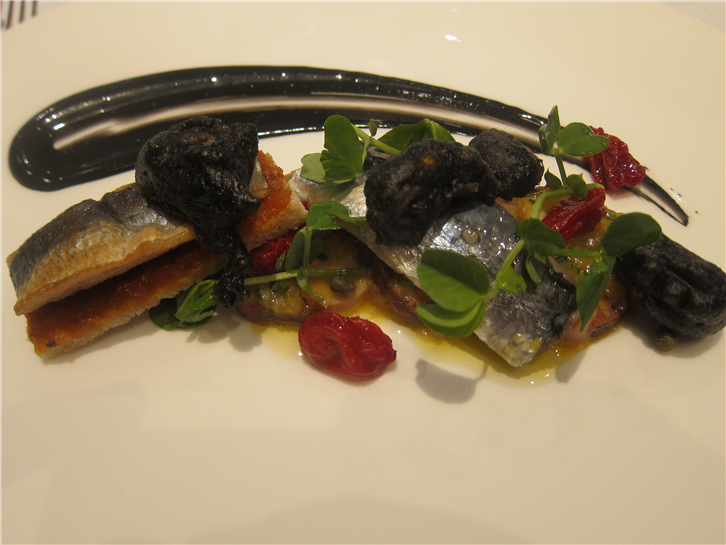 After my visit to Sat Bains I was able to try two further restaurants on my visit to Nottingham. Harts serves modern British food in a hotel setting, and was actually quite impressive. The food here is not trying to be innovative or clever, but did deliver clean flavours and enjoyable dishes; as a bonus the wine list was very fairly priced by London standards.
On the way back we stopped at The Plough at Bolnhurst, a village in Bedfordshire. In this seriously old building we had some very pleasant pub food, and I was able to examine a remarkably good and kindly marked-up wine list, which featured unusually detailed tasting notes as well as prices that in some cases were only a little above retail price. Tom Jaine, editor of the Good Food Guide back in the 1990s, once told me that "there is no good Food Guide entry in Bedfordshire, and there never will be". It took a while, The Plough entering the Guide in 2007, but if you are in the area then you could do much worse.
Bistro du Vin has taken the place of Eastside, which sadly closed some time ago. It is less culinary ambitious but was pretty full on the night of our visit. I think this is partly due to a very appealing menu, and partly to a fairly kindly marked-up wine list. The food itself was a very mixed affair, with a perfectly good steak served with dismal chips, and good quality smoked salmon served with bad pumpernickel. Service was also a complete shambles on our visit, which did not help the experience. I see that Fred Sirieix (star of the recent BBC food show "Service") now has a training board game available for restaurants to help them hone their service skills; I think Bistro Du Vin should buy one of these.
I had an enjoyable lunch at The Square, taking advantage of their £35 three course menu (one dish pictured), which seems to me very good value indeed when you consider the level of cooking here. There are plenty of trendy London "small plates" dining places where it would not be hard to run up a bill of this size for food that is not remotely in the same league. My lunch featured some beautifully cooked bream as well as a lemon tart.
The lunch I had at Apsleys reflected the continuing development of the cooking here, which started out excellent and seems to get better with each meal I eat here. This week a risotto of wild garlic garnished with tuna was stunning, of the quality you might find in a multi-starred restaurant in Italy. For me this was a two star Michelin meal, and it will be interesting to see what happens to their rating next January.
Kiraku is a Japanese restaurant in Ealing with a deeply tacky-looking shop front but a room full of Japanese diners. On my second visit here I had a particularly impressive dish of eel marinated in Japanese pepper, but also several other very capable dishes, all at an almost absurdly low price..
I am very pleased to add Jason Atherton to the list of chef interviews.