Elegant Milan
Saturday, June 11th , 2016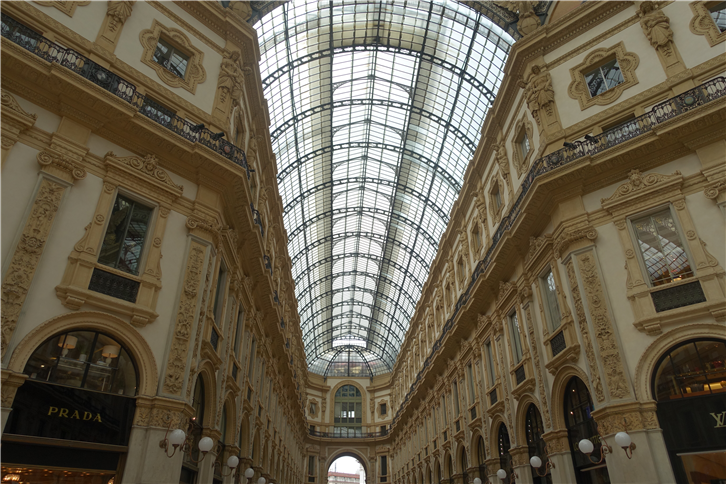 Milan, the capital of Lombardy, is the second largest city of Italy and is famous for its elegance, exemplified during Milan fashion week. Even the shopping arcades are beautiful, as with the Galleria Vittoria Emanuele II (pictured), which dates back to 1877 and is named after the first king of Italy. I particularly wanted to return to a restaurant that I enjoyed several years before, Il Luogo di Aimo e Nadia. This is tucked away in a residential suburb and has been running for over fifty years. Now with two young chefs running the kitchen, the style of cooking is old fashioned in a good way – simple dishes based on great ingredients. No tweezered flowers or foraged weeds trouble the plates here, just great flavour. A signature dish sums the place up: spaghettini with spring onions and a slightly spicy pepper sauce. Simple yet beautifully executed, the flavours carefully balanced, the texture of the pasta flawless. At this meal a pigeon dish, served in three separate stages was spectacular, and the welcome here is genuine. It is a delightful restaurant that I highly recommend to you.
I also tried two of the newest one Michelin star restaurants in the city, which turned out to be very different indeed. Seta is in the Mandarin Oriental Hotel and has recently gained a chef who for some time held two stars at his previous venue. This experience shows, and we had a very fine meal, with a lovely mackerel royale amuse bouche, and a sea bass dish with salt cod brandade and a squid ink net tuile demonstrated the technical skills of the team. Roasted pineapple with passion fruit tapioca was a lovely way to finish the meal and showed that the pastry section of the kitchen has talent too. Service was dazzlingly good, and I would imagine that it is only a matter of time before Michelin promote Seta.
Alice was a much less successful experience. It is a restaurant that moved locations recently into the top floor of the Eataly food emporium, and has a fine view. The kitchen tries hard to be inventive, from dish composition to presentation; even the petit fours arrive on a little merry-go-round. Unfortunately the effort in dish presentation is not matched by flavour, with a stale nibble, a bizarre pre-dessert and a lukewarm fish dish letting the meal down badly. Some dishes were pleasant and service was friendly, but this meal was a long way off one star quality. A wonderland it was not.
Separately, I stumbled across a useful website that covers private dining rooms in London. There are some other similar lists but it can be tricky to find a room for a private party of a particular size in a given location, and this site seems quite comprehensive. Useful if planning a function.
The first part of the annual St Pellegrino best restaurants list was published, initially positions 51-100 (the top 50 will follow next week, announced at a ceremony in New York). The list is widely quoted in the media and has considerable impact on a restaurant's bookings, so is much awaited by chefs. The voting is carried out by 900 worthies, a three-way split of chefs, journalists and well-travelled diners. The paticipants vote for seven restaurants, at least some of which must be outside of their own country/region. The list is controversial in many ways, not least because it does not validate whether the voters actually paid for their meals, or even visited the places they voted for in the 18 month window that they are supposed to use, though at least this year voters were apparently asked to supply dates of visits, with some sort of sample audit process to check. In the lower half of the list the UK is represented by Hedone, which stayed at number 60 (unchanged), Lyles a new entry at 65, and St John one place up at 91. Clove Club's disappearance probably means that it has made it into the top 50 to join Dinner and The Ledbury, but that will not be certain until the top 50 is published. The 51-100 is a volatile creature, with 20 new entries, the highest being The Jane in Antwerp at 54.