Baiersbronn
Saturday, June 30th , 2018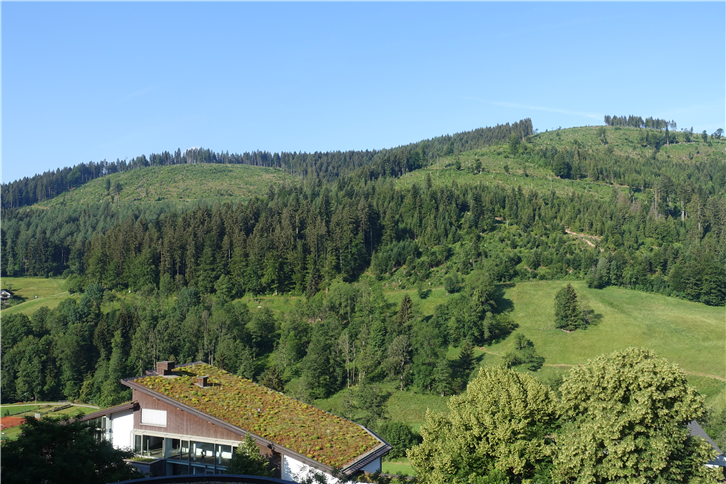 Baiersbronn is an obscure little municipality in the Black Forest, nine villages strung out along a beautiful valley lined with pine trees. It is remarkable for its density of Michelin stars, the most of anywhere on earth. It has a pair of three star Michelin restaurants in Bareiss and Schwarzwaldstube, and a two star called Schlossberg (no relation to three star restaurant Schloss Berg in Perl-Nennig). It exceeds the count in Bray in Berkshire, with eight stars compared to seven (Waterside Inn, Fat Duck, Hinds Head) yet with a population less than half that of Bray.
Bareiss is one of the three star restaurants, located in a luxury hotel at the base of the valley. It has a very traditional dining room and serves classical food, using top quality ingredients such as venison from its own hunting estate. This is entirely worthy of the three Michelin stars that it has held since 2007. It is a top-class place.
Bareiss has a casual sister restaurant called Satellei, set in a former hiking hut in the woods overlooking the hotel. This little restaurant produced two really fine dishes, a pork dish with mustard and terrific quality sauerkraut, and also a delicate tarte flambee, a flatbread dish that is a local (ish) take on pizza. The prices here were absurdly low given the quality of the food, and the woodland setting is gorgeous.
Schwarzwaldstube is the most famous restaurant in Germany, and is remarkable not only for its cuisine but its knack of training other chefs that go on to glittering careers of their own: thirty chefs who have worked there have progressed to Michelin stars of their own, including some other three star places. The restaurant is in the rustic Traube Tonbach hotel, and looks down over the valley. It has a new chef in the form of Torsten Michel, who was the long-term sous chef under former head chef Harald Wohlfhart. The food at this meal was absolutely superb, slightly bettering the fine meals that I had eaten at the restaurant under the previous kitchen regime. This is without doubt a world-class restaurant. We had just enough time to sample a couple of dishes only from its casual sister restaurant Baurenstube, which serves traditional dishes of the area, and though this was an insufficient sample for a review, what we tried was excellent and I will return another time to do a proper visit.
The only disappointment of the trip was the two star Schlossberg, which is within another hotel in the valley. There was a serious problem with over-salting of dishes, in some cases to an extent that rendered the food inedible. Additionally there was some very clumsy cooking, such as a chewy octopus and monkfish with the texture of cardboard. Service was also almost laughably bad. Although there were a couple of acceptable dishes amongst the wreckage, this was a shambolic restaurant that has absolutely no place as a Michelin starred establishment. I have literally never eaten a worse meal at a starred restaurant anywhere in the world, and I have tried hundreds.
This aside, Baiersbronn is a terrific destination for a break, with beautiful scenery and world-class cuisine as well as some classy and cheap restaurants serving the local specialities. Do yourself a favour and visit.