Bangalore and Mysore
Saturday, January 28th , 2012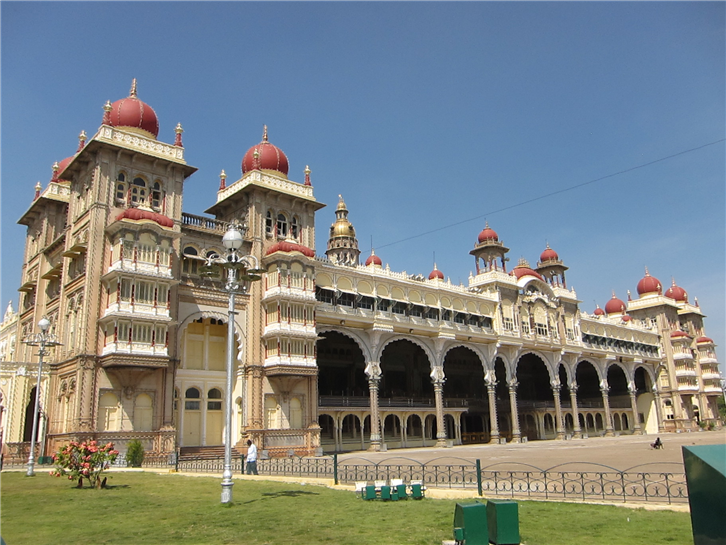 This was a winter-sun kind of a holiday rather than a foodie "must chase down every restaurant in sight" kind of holiday, but there was some good food involved. We went to Bangalore and Mysore on this trip. Bangalore is less of an obvious tourist destination than Goa or Kerala, but it has the significant advantage of having perhaps the best climate in India. Due to its location, in January the temperature highs in Bangalore are around 26C to 29C, whereas in Goa most days are very hot at around 33C, with even the night time temperature there barely falling below 20C. Although Bangalore was known as the garden city of India, this is a rather optimistic epithet now: there are still some tree-lined streets, but sadly a lot of greenery has been lost to development. I wrote a little about Bangalore in a previous blog, so won't repeat this here; if you interested then just follow this link.

We stayed at the superb Leela Palace hotel, which like its sisters in Goa and Kerala is of the highest class. All the little details are right: the beds are wonderfully comfortable, there is good bedside lighting, the shower was excellent, and the service hard to fault. Moreover it has the Jamavar restaurant, which I ate at briefly on a previous trip and which was just as impressive over a lengthier stay. This, along with its sister restaurant in the Leela Goa, is the best Indian restaurant I have visited on my many trips to India. The setting is attractive but the main thing is the extremely high standard of cooking. Dish after dish was lovely, with very accurate cooking of seafood dishes, a near perfect biriani and superb bread. Even little details like the mango chutney has fabulous flavour, a world apart from what we are used to in the UK. The desserts were also excellent, with home-made kulfi in particular having amazing flavour.

Mysore (pictured) has the vast Mysore Palace as its main tourist destination, as well as a range of temples. The Mysore Palace is impressive but also showed off some of the petty bureaucracy that afflicts India. There is a chaotic single window at which to buy tickets, with a scrum of pushing and shoving. After you get through this there is a security screening at which you answer questions about where you are from and staying. At this point only you are told that cameras are banned and must be deposited at a special room in a far corner of the complex, which involves further queuing and issuing of receipts. What is surreal is that the rule about cameras was clearly established at a time before every decent phone had a camera, so as you go through the palace everyone happily snaps away on their phones, with no intervention from the uniformed staff other than to ask Western tourists whether they may wish to donate to their "coin collection". They could just put a sign up saying "no flash photography" but go through this pointless and time-consuming ritual instead. An audio guide is available, which involves more queuing, form filling and handing over of a deposit. Your shoes also have to be left at yet another location, so by this time your main concern is to whether you can successfully retrieve your shoes, deposit and camera from the designated places, all scattered at entirely different locations in the complex. The palace is indeed a magnificent building, but visiting could not be described as a user-friendly experience.

It does not appear that Mysore is particularly noted for its food, given the difficulty I had in researching in advance to find any restaurant recommendations at all. We did try one place there called The Castle, but this was not somewhere that could be seriously suggested as a place to visit.

Bangalore, a visibly more prosperous city than Mysore, by contrast has plenty of restaurants, though to be honest I found it hard to be tempted away from the magnificent food of the Jamavar, especially given the heavy Bangalore traffic, which makes getting around rather tedious. I was impressed by the biryani at Samarkand, which is tucked away in a shopping mall and serves North Indian food to a mainly local clientele (it was packed out, and I did not see a single westerner there). This served very good food and was also very fair value, at a fraction the price of Jamavar.

This was my thirteenth visit to India, and bureaucracy aside, it is a place I would highly recommend to you to visit. It is a lively, vibrant, occasionally infuriating but fascinating country.
I also did an interview for Mise En Place, a restaurant and catering trade web site.