A trip to Berlin
Saturday, October 23rd , 2010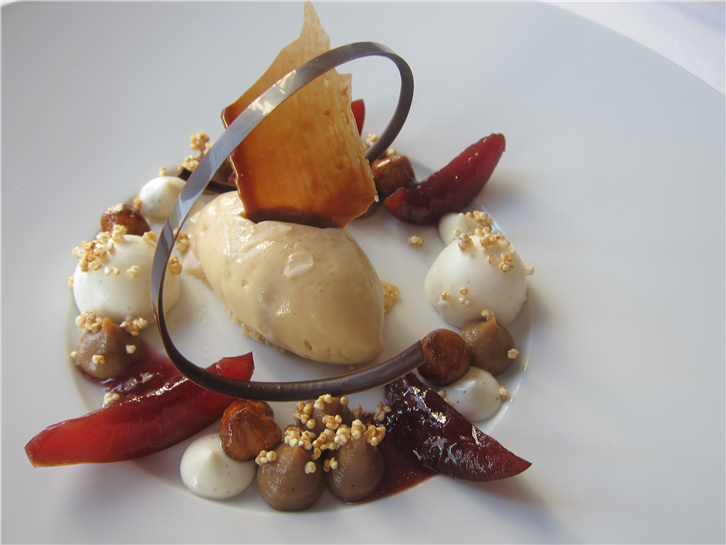 I have long been a fan of restaurants in Germany, where the top-end French restaurants operate at an extremely high level, frequently exceeding the standards of restaurants in France. It was interesting to try some of the one star restaurants in Berlin. Reinstoff is very much in the avant- garde cooking style, with a heavy Spanish influence, and a young clientele (well, except for me) and moody lighting. It was not entirely consistent, but there were a couple of very good dishes.
The First Floor's new chef Matthias Dieter cooks in a more classical style, although not without his own little touches. The technical skill here was high and presentation attractive (check out the photo gallery for this one; one dish is pictured), and this seemed to me a very strong one star restaurant. There were a couple of minor slips that marred the meal slightly for me, while the mark-ups on some of the wines and the water in particular were egregious, but the superb desserts here softened the blow.
Margaux's Michael Hoffmann is a chef who has a passion for vegetables, most of those used in the restaurant being grown in a dedicated garden out of town. I had a lengthy tasting menu, which is all the restaurant offers, very much in the current vogue. The highlights for me were undoubtedly the pure vegetarian dishes, which were genuinely top class. Desserts were of the "hey – I found yet another wacky herb to put in my dessert; aren't I a trendy pastry chef?" variety, which I find irritating when no choice is offered. Wine mark-ups were fairly aggressive in places, and this was an expensive meal, but the high points were at least very high and compensated for the desserts.
Roussillon has a new kitchen team in place under young head chef Daniel Gill (Alexis Gauthier having moved on to his own place in Soho). At my recent meal things were a little different under the new regime: in prior visits the strengths seemed to me to be desserts (Gauthier was a pastry chef by training) and the excellent bread, but this time things had flipped around. The savoury dishes were very good, but bread standards had slipped and desserts had moved into a lower gear.
La Trompette was on strong form this week, producing a series of well executed dishes. You do not get really top-end ingredients at this well-run operation, but the technical execution of its appealing menu is very good, and the wine list must be one of the best and most kindly marked up in London.
Michelin released its new guide to Kyoto this week, which this year extends its scope to Kobe in addition to Osaka, which was covered last year. One kaiseki restaurant, Nakamura, is promoted to three stars, while in Osaka two further Japanese restaurants Kashiwaya and Taian are promoted to three star level. Kobe's debut in Michelin sees Japanese restaurant Komago and fusion restaurant Ca Sento granted three stars. The forthcoming Tokyo guide will also see geographic extension, the 2011 edition covering the seaside town of Kamakura and also Yokohama, Japan's second largest city.
It was only in 2006 that Michelin moved outside of Europe with its New York guide; the international expansion has occurred under its boss Jean-Luc Naret; this week it was reported in the New York Times that Mr Naret will be stepping down later this year.
For what it is worth, and to be honest I am not sure that it is much, the Miele Guide to Asia just came out. This is trying to establish an Asian brand rather akin to Michelin, but it does not seem to have the same rigorous inspection process, merely a vote from a bunch of food writers, rather like the San Pellegrino Top 50, and we all know how reliable that is (best restaurant in France according to this list and 11th in the world is a bistro called Chateaubriand, which Michelin do not even dignify with a single star). The Miele list is:
1.Iggy's, Singapore
2. L'Atelier de Joël Robuchon, Hong Kong
3. Robuchon à Galera, Macau
4. Jaan, Singapore
5. Antonio's Cavite, Phillippines
6. Mozaic, Bali, Indonesia
7. Zuma, Hong Kong, China
8. Cilantro Restaurant & Wine Bar, Kuala Lumpur
9. L'Atelier de Joël Robuchon, Tokyo
10. Caprice, Hong Kong
11. Les Amis, Singapore
12. Yung Kee, Hong Kong
13. Gunther's Modern French Cuisine, Singapore
14. Bukhara, New Delhi
15. Tippling Club, Singapore
16. Nobu, Hong Kong
17. Dum Pukht, Mumbai
18. Ku De Ta, Bali, Indonesia
19. Bo Innovation, Hong Kong
20. Beijing Da Dong Roast Duck Restaurant, Beijing

The obvious question is "where is Japan?" given it is a guide to Asia, and the inclusion of just one restaurant in Japan (and that a French import) immediately destroys the credibility of the list. I have not been to all of the restaurants in that list, but I have been to some, and all I can say is that Dum Pukht in Mumbai seemed to me well ahead of Bhukara in Delhi, while the only thing that looks vaguely right is that Robuchon Galera is very high, as that is a serious 3 star place. I have been to Singapore several times, but not in recent years, and the food scene must have moved on there in a big way if that list is even vaguely accurate. This looks more PR exercise than serious food assessment to me.

I was featured in the Wall Street Journal (both print and on-line) this week in an article about the rise of food blogs relative to their print brethren. The article is here.

If you missed my appearance on Masterchef: The Professionals this week then you can catch it (at least for a few days more) on the BBC iPlayer if you live in the UK. If you are abroad then you cannot watch it unless you care to use a VPN service, which doubtless would distress the BBC. The iPlayer link is here: