A Return to The Dorchester Grill
Saturday, December 25th , 2021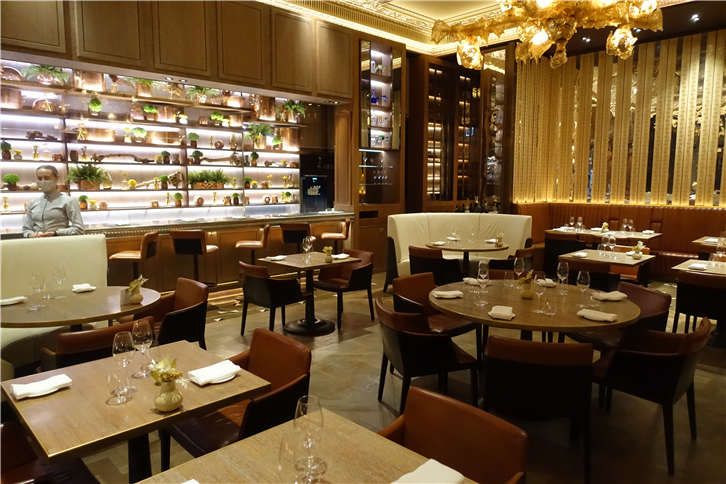 I returned to The Dorchester Grill Room (pictured) which has been transformed under its young chef Tom Booton. A lovely liver parfait canape, good brill and excellent sweetbread dish were lovely, as was the signature lobster Thermidor tart and a fine coffee dessert. Only an under-seasoned beef tartare slightly lowered the level of things. The restaurant is not especially expensive and I have now tried a lot of dishes here, and the standard is generally very high.
I did have one last meal out before Christmas but I will save that until next week, as it looks as if we may well be heading for stricter Covid restrictions any day now in London, with the omicron variant of Covid really taking off. Whether or not we are back to outdoors dining and takeaways remains to be seen, but the mood music is not great.
Looking back at the year, it has of course been a very difficult one for most of us, with the pandemic looming over our lives. Hospitality has been particularly hit. Travel has been seriously disrupted, a simple trip now a long series of locator forms and Covid tests and the possibility of an unexpected couple of weeks in a quarantine hotel. Gone are the days when I could just take a carefree day trip to Paris for lunch. I did manage a four night trip to Paris and ate well there, especially at new three star Kei. I also had a lovely meal in Dublin at the revitalised Chapter One. In London The Ritz cooking continues to go from strength to strength, and there were a few brave restaurant openings, such as the ambitious and enjoyable Sollip. I think the opening I am most excited about is Black Salt in East Sheen, the little sister of Dastaan. The food is great and it is a lot more accessible for most Londoners than Dastaan, which is in Ewell.
I'd like to wish you all a very happy Christmas!