The Gate reopens
Saturday, February 15th , 2014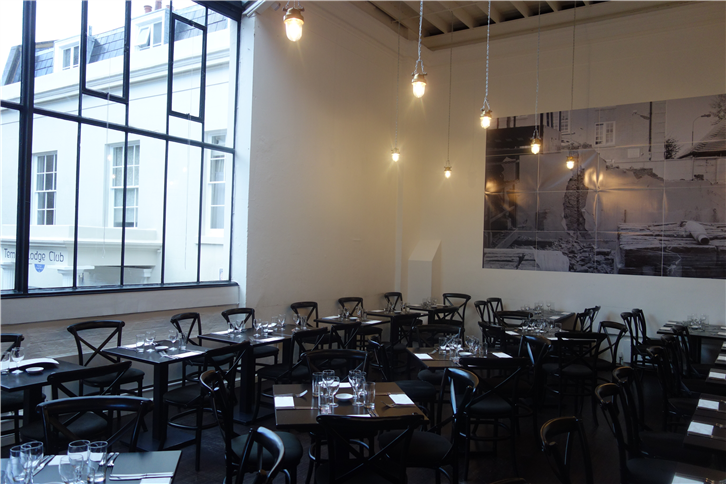 The Gate is that rarity, a purely vegetarian restaurant, originally opened in 1989 and now reopened after a major refurbishment. The new dining room is an improvement, more casual but with the room still having plenty of natural light due to its location in what was once an artist's studio. The head chef has not changed, and some of the dishes have been on the menu for years. I enjoyed a nicely presented wasabi potato cake, though having strawberries and raspberries as garnish on a dessert in January does not suggest a great deal of attention to seasonality. This is certainly a pleasant enough restaurant (a touch better than its sibling in Islington), and if you want to try a purely vegetarian menu in a nice setting then you could do much worse.
Le Café Anglais in Queensway is still serving up a wide range of appealing dishes, with the rotisserie of its open kitchen a feature. I like the faux art-deco room (the space was in fact formerly a MacDonalds) though the meal that I had was less consistently good than at my previous visit. For example a Thai curry had overcooked fish, and the sliced bread served was stale. Better were turbot and salsify and a blood orange tart.
The Royal Oak is a regular haunt of mine, tucked away in an obscure country lane not far from Windsor. Chef Dominic Chapman was the original chef at The Hinds Head, and has earned a Michelin star at The Royal Oak. The menu here is very appealing, with classic English food including old-fashioned dishes such as trifle. Rabbit and bacon pie here is a most enjoyable dish, and the staff are excellent.
Tarantella is a family-run Italian restaurant near where I live that I return to regularly. Objectively the food is merely good rather anything special, but the welcome is genuinely warm and the cooking capable enough. They have recently adjusted their pizza dough mix, so the base of the pizza is now rather softer, as you find in the pizzas of Naples. This is a good value, enjoyable neighbourhood restaurant.