From Paley Street to Patara
Saturday, June 19th , 2010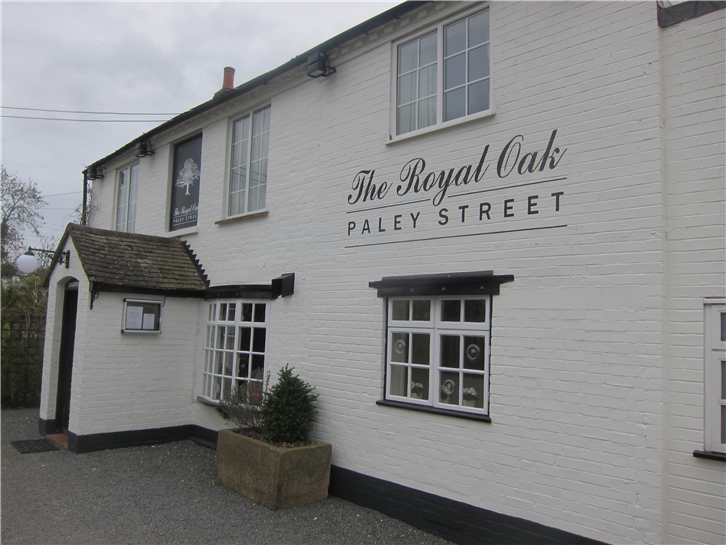 Many "gastropubs" are cynical rebranding operations aiming to charge more money they deserve for ordinary food, but The Royal Oak (pictured) is the real thing. Dominic Chapman was previously head chef at Heston Blumenthal's Hind's Head, and moved down the road to head up the kitchen here in 2007, gaining a Michelin star this year. The emphasis on ingredients is impressive – how often do you see wild salmon these days, even in supposedly high-end restaurants? Presentation was better than you would expect in a pub, as with my eel salad (pictured) .Excellent technique was also on show with a superb cherry trifle. It is also worth trying the Scotch egg – a more classical version than the superb venison Scotch egg at the Harwood Arms, but also very good. This was a real find.
The Luxe is sister to John Torode's Smiths of Smithfield, and is also a multi-floor operation with an emphasis on meat. The ingredients themselves were well sourced, such as gammon made from Gloucester Old Spot, and properly aged beef, yet the cooking was inconsistent. The steak I had was properly cooked, but the chips that came with it were lukewarm; a mackerel salad was fine but a shortbread biscuit dismal. This fluctuating level of cooking is not really on given the fairly steep prices that are being charged.
The mini-chain that is Patara delivers the best Thai food that I am aware of in London right now, albeit at a slightly elevated price. This is the first time I have been to the Beauchamp Place location, and it really delivered. Spicing is vibrant and complex, presentation is fairly attractive and there are no issues with cooking technique. I still have fond memories of the sadly departed wonderful Thailand in New Cross Gate, but Patara is the place setting the standard for Thai food in London at present.
Another , rather less successful attempt at up-market Thai food is Charm, a very smart restaurant and lounge bar in the rather incongruous setting of King Street Hammersmith. The cooking was variable though generally not bad, though nothing like the league of Patara. What was odd was the lengthy and high-end wine list that could easily pass muster in Mayfair, here amongst the curry houses of King Street. The value for money factor was the main issue here, as there was distinct inconsistency n the dishes, though the service was indeed charming.
A restaurant that knows all about successful delivery of an Asian cuisine is Hakkasan, consistently the best Chinese restaurant in London. What is remarkable here is how the standard of cooking does not seem to drop however high the volume of diners is, and believe me that the volume is high. We went on a Monday night, on which they had a little matter of 420 covers booked. Despite this, dim sum was as light and fluffy as ever, spicy prawns perfectly cooked, and the gai lan here was as delicate as anyone could hope for. Even the service remains silky smooth despite the tremendous scale of the operation. Prices are high, but at least in this case you can see why.
An icon of British food passed away this week. Egon Ronay's restaurant guides were essential reading when in his hands (it was a different story after he sold up to the AA Guide). I only met him once, when he spoke at a private dinner at The Square, and although already in his 80s he was spry and outspoken in his views on the state of British cuisine; he will be missed. A proper obituary can be found here.
The blog next week will be a couple of days later than usual.