Lunch at Dinner
Saturday, March 07th , 2015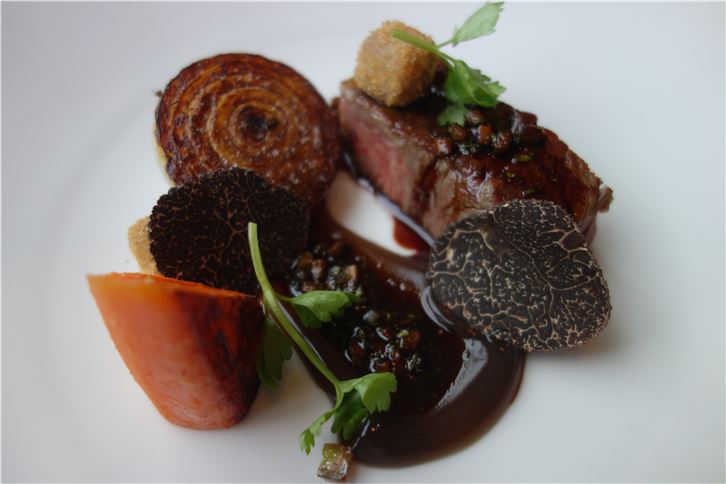 The Good Earth in Knightsbridge is one of a small group of Chinese restaurants that have been running for over three decades. They appear invisible to social media, yet are clearly doing something right in order to have stayed in business for such an extended period. Certainly the meal that we tried was very good, with nicely made Sichuan prawns and gai lan, and even cliché dishes like sesame prawn toast much better than the versions that most of us are familiar with from our local Chinese restaurant. Prices are higher than a local place but service was genuinely slick, and there is certainly pricier yet less good Cantonese food to be had in Knightsbridge.
I had three meals in quick succession at Dinner by Heston Blumenthal when it opened, but had not been for some time. Ashley Palmer-Watts was back from Australia where he helped launch the temporary Fat Duck relocation to Melbourne. The menu here is quite stable, though tweaks have been made to several dishes. Stand-out plates of food were the signature meat fruit (chicken liver parfait disguised as an orange) and tipsy cake with pineapple. However I tried numerous dishes at this meal and the general standard was high, with British wagyu beef the centrepiece of a pretty beef royale dish (pictured) for example. Service was excellent and the bill not excessive if you avoid the expensive and highly marked-up wine list.
I can't seem to keep away from Hedone at the moment, and had my 57th meal there. One of the things that is appealing is that the menu changes quite a lot based on the best produce available, so even within the three very recent meals I have eaten, there has been some variation in the dishes served. Rolled black truffle omelette was particularly good at this meal, as was perfectly cooked turbot. The chocolate ganache with passion fruit jelly topped with raspberry powder, a nod to a dish at Lameloise, was a superb way to finish the meal.
Another of my regular haunts is The Brilliant in Southall, which will clock up its 40th anniversary this year and is still thriving. The service is good and the Punjabi dishes are consistently excellent e.g. the malai tikka at my last meal. They are one of the few London restaurants that serve romali roti, and the spicing of their curries is as vibrant as their prices are moderate.