A busy week of eating, including the ambitious new opening Zedel
Thursday, July 05th , 2012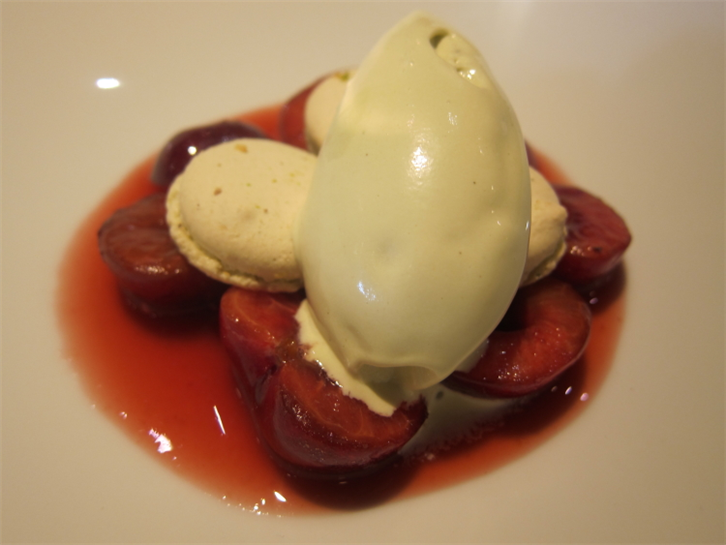 There is a new chef at Apsleys, but after just a few weeks the transition seems to have been very smooth. The tasting menu which we tried involved some genuinely classy dishes, from the simple (a perfectly executed Roman pasta dish with black pepper) through to more exotic (tempura of langoustines), but dish after dish was of a very high standard. This is, quite simply, the best Italian food in London. New chef Heros de Agostinis was previously sous chef at three star Michelin Pergola in Rome, and his experience shows.

The Petersham Nurseries has a new Australian chef, its previous Australian chef Skye Gyngell having departed recently, in interviews blaming the pressure of having a Michelin star thrust upon her (poor petal). I was always baffled by this particular star, as when I had eaten there the food seemed very ordinary in every way except the prices, which were very high indeed. I slightly preferred new chef Greg Malouf's cooking, but although there are now some Middle Eastern touches (he is of Lebanese heritage) most dishes are still the kinds of things you might see in a good pub e.g. halibut on a bed of beans was one main course. My problem is not the distinctly casual service, but the price – that rustic halibut dish cost £28 as a main course. Three courses at lunch will set you back around £50 here just for food. Given the moderate quality of what is on offer, and the bargains that you can have in London for that price at lunch, I am surprised that they get away with this level of pricing. Yet the 120 seat greenhouse seemed pretty full on a Wednesday lunch.

Le Gavroche was on excellent form this week, with beautifully executed, classical French cooking and silky smooth service. As usual, desserts were the highlight, with a perfect passion fruit soufflé one example. It was interesting to compare this experience with lunch, where Gavoche do a good value lunch menu, with wine included coffee and water all, for £52. The last couple of times I opted for this lunch, and while it is certainly fairly priced, the dishes were of a lower standard than at my evening meal this week (still good you understand, just not as good as at dinner). I guess you get what you pay for.

Zedel Brasserie is the latest restaurant from the owners of The Wolseley, in the basement premises of what used to be Oliver Peyton's The Atlantic. The vast space has been attractively redecorated, and the brasserie food was very competent. What was more surprising was just how cheap it was (see review for details), and a lemon tart in particular that I tried was a genuinely good dish at a distinctly kindly £3.

Cambio de Tercio produces the best Spanish food in London, and is now a little less cramped due to the recent expansion into the next door premises, allowing a larger dining room and much expanded kitchen. Sardines with grapes and Campari jelly were lovely, as was fillet of beef with bone marrow and a rich oloroso sauce, its richness cut through with a little apple and potato millefeuille. Cambio is a bargain, with a full tasting menu just £39, and wines frequently just twice their retail price. No wonder that it was packed out on a Monday night.

Hedone continues to produce dazzling food based on selecting top quality ingredients. A meal this week including really superb scallops that were alive just before serving and so had wonderful natural sweetness. A new razor clam dish bore no resemblance to the rubbery things that pass for razor clams at most UK restaurants, and 55 day aged beef was also superb. Cherries with pistachio macaroons is a new dessert (pictured) that is well worth trying too. Anyone who has an interest in ingredients should visit Hedone, and they now have a three course lunch menu available for just £25, which is a real bargain. Alternatively for the same price you could just about afford a main course at The Petersham Nurseries, at least if you order carefully there – decisions, decisions.

The blog will continue its slightly erratic schedule (rather than its usual Saturday slot) during July as I fit the writing in around a lot of travel. Follow me on Twitter for more real-time updates on my eating in the coming weeks.