A tale of two meals
Thursday, March 21st , 2013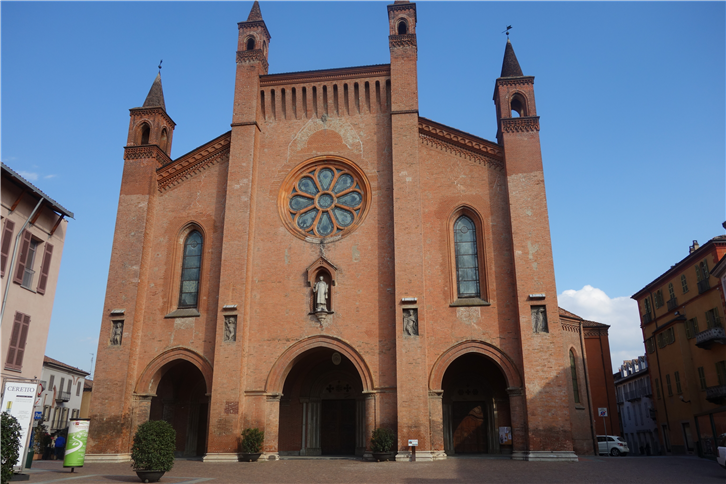 In the 2013 Italy Michelin guide there was one promotion and one demotion at the three star level: Piazza Duomo in Alba was elevated, Al Sorriso was demoted after fifteen years holding three stars. I was surprised at the latter, since I had eaten two superb meals at Al Sorriso, most recently in June 2010, so I was curious to see what had gone wrong. The answer is – nothing that I could discern. Al Sorriso delivered a lovely meal based on impeccable ingredients: top quality prawns, Fassone beef, spring truffles. Strong three star territory, lovely service, just as before. The very well-travelled gourmet that I went with had eaten half a dozen meals here in the last two years, and found no change whatever in the cooking standard over this time. I would encourage you to go to Al Sorriso if you are near Milan: it is near the lovely Italian lakes, and the family that run it are charming.
Piazza Duomo is at the other end of the culinary spectrum in terms of modernity, with a chef who worked at El Bulli. Culinary trickery using chemicals to create unusual textures, olives that were not olives, tomatoes that were not tomatoes. I lost count of the number of amuse-bouches. All this would be fine if it actually worked. Osteria Francescana is an excellent example of modern cooking which still respects the local ingredients, and has a sense of the traditional cooking of the local area, even though the cooking technique is as modern as could be. Sadly Piazza Duomo delivered nothing like that: there were some nice dishes, but time after time there were plates for food where one flavour dominated all the others, or where the chosen combinations of ingredients clashed. Even the most recognisably Italian dish, a pasta with "tomato sauce", turned out instead to be using a bitter, metallic red pepper sauce instead. Given that Italy has some of the best tomatoes in the world, this seems to me a travesty. I am clearly not in tune with what Michelin are thinking when it comes to these two restaurants. The worst dish at Al Sorriso seemed to me better than the best one at Piazza Duomo.
The Waterman Arms is an unusual place, an old boozer by the river in Brentford where pub food is mixed in with authentic Japanese dishes. Sounds odd? The chef/landlord's wife is Japanese, and lived in Japan for many years, so in between the fish and chips and steak and kidney pie you will tonkotsu. It is not the most sophisticated Japanese food you will find in London, but it is very much in the spirit of the izakaya bars you find in Japan, and the chef has an obvious passion for all things Japanese. As a bonus, it is extremely good value. If you are ever in Brentford be sure to give it a try.
Yauatcha continues to produce high quality dim sum, some of the best in London, albeit at a price. The food was excellent as ever on my visit this week, though service was unusually stretched: the place was rammed at lunch and I think they had some staff off sick, though the remaining ones did their best and remained quite calm. I am impressed by just how consistent the food here is despite the considerable size of the operation: nothing ever turns up cold or overcooked. Yauatcha is a well-oiled kitchen machine.