I venture south of the river
Saturday, September 04th , 2010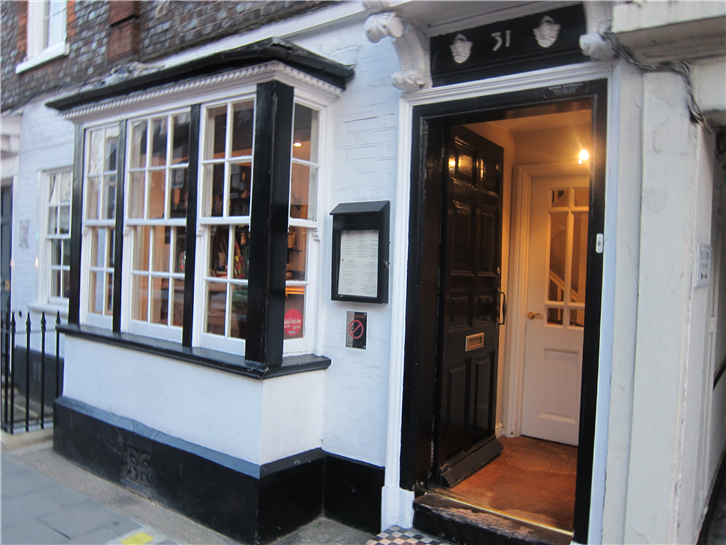 London taxi drivers are notoriously reluctant to take their fares "south of the river" and, to be honest, most culinarily ambitious chefs seem to share this view: there is just one Michelin starred restaurant, Chez Bruce, in the whole of South London. However, Trinity in Clapham produced one dish clearly at that level in the meal I ate there this week (a fine dish of Dexter beef), and I suspect that only the less capable desserts are holding them back from higher recognition. It is nice to see Adam Byatt's team return to form after the unfortunate Origin (a venture in Covent Garden that lasted less than a year). The savoury dishes in my meal featured very good ingredients and solid cooking technique, and was deservedly full on the night of my visit.
The Vanilla Pod in Marlow (illustrated) served up a very capable meal this week. The dining room is cosy and the service well orchestrated under new manager Mickael Metayer, who has moved here after a nine-year stint at Pied a Terre. Michael Macdonald's cooking demonstrated a care for ingredients and generally strong technical skill. Some excellent Scottish scallops and a lovely rich chocolate fondant were particularly impressive.
Pizza is one of those things that we are all so familiar with that it is easy not to take seriously. Indeed, not many restaurants seem to, with endless chain places churning out inferior products at high margins. Franco Manca is my benchmark, but they have some competition in the form of Santa Maria, a pizzeria in Ealing, also run by a family from Naples. Santa Maria has a wood-burning oven, though not on the scale of the monster oven that Franco Manca possess, and produced a couple of really excellent pizzas for us this week. I found the ancillary items less good, but the pizzas themselves were lovely, which would explain the lengthy queue outside (we waited half an hour even on a Sunday; they don't take reservations but there is a convenient pub next door to wait; indeed a fair proportion of the people at the pub seemed just to be waiting for their table slot at Santa Maria). It is interesting that both Franco Manca and Santa Maria charge less for their pizzas than the high street chains do for their wildly inferior products. This is nice for customers, though at some point they are going to notice and realise they could charge a premium; in the mean time, enjoy.
I had another good meal at Restaurant Michael Nadra, whose cooking seems to have moved up a gear since he moved back to cooking meat as well as fish (previously the restaurant was Fish Hook). Soft shell crab tempura had delicate batter and was served with an oriental salad with a nicely balanced sweet chill-based dressing. Aged Hereford fillet steak had high quality meat, served with carefully cooked spinach, a sauce of the cooking juices flavoured with pepper, and capable triple cooked chips.

A little bit of London culinary history will end next week as Aubergine in Fulham closes its doors. Gordon Ramsay established his reputation here, and for many years William Drabble held a Michelin star before moving to Seven Park Place late in 2009. It seems that it did not long survive his departure. I was particularly sorry to see that Bjorn van der Horst's Eastside also folded this week; Bjorn is a talented chef and I had some excellent dishes there. This follows soon after the closure of the Quality Chop House nearby.