A Visit to the Algarve
Saturday, April 11th , 2015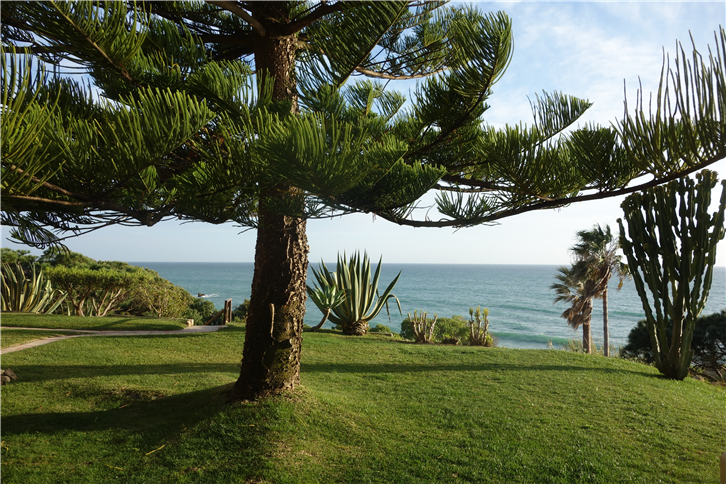 The Algarve in the south of Portugal is blessed with a splendid climate and pretty coastline (pictured), and is popular with golfers and those in search of sunshine. It also has Villa Joya, the first restaurant in Portugal to gain two Michelin stars. An area popular with German and Austrian tourists, it is interesting that both Villa Joya and Ocean, the other two star restaurant in the area (sadly closed when I visited) both have Austrian chefs.
Sao Gabriel is a one Michelin star place further along the coast, and was pleasant enough. The food was fine when the chef could resist tinkering with his kitchen toys, such as with a very good red mullet dish. However too many dishes involved the kitchen showing off its grasp of modernist technique, with ingredients coerced into unnatural textures, and a general tendency to have too many components on each plate. The wine list was interesting and the staff friendly, but I feel that the restaurant would be more successful if it just let the local products speak for themselves.
Villa Joya does just that, the cooking heavily oriented to using the seafood of the region. The cooking style is quite classical in style, and one thing that I really liked was its approach to sauces. In London these days you are hard pressed to encounter a sauce unless it is in the form of a few artistic blobs or smears to decorate the plate. At Villa Joya sauces appear as they should do, in glistening pools. More to the point they are carefully made, something that requires a lot of work in the kitchen. The format here at dinner is a no-choice tasting menu that changes each day, which encourages hotel residents to eat multiple meals here rather than dining elsewhere. There is more choice at lunch, but even here the menu changes to some extent every day. The food was consistent and well made, and although it perhaps lacked much "wow" factor it was an entirely enjoyable experience. Service was a little casual for the price point, but the setting of the dining room is spectacular (pictured), perched on the edge of a cliff overlooking the Atlantic. There are worse places to spend a few days.