The openings keep on coming in London
Saturday, November 23rd , 2013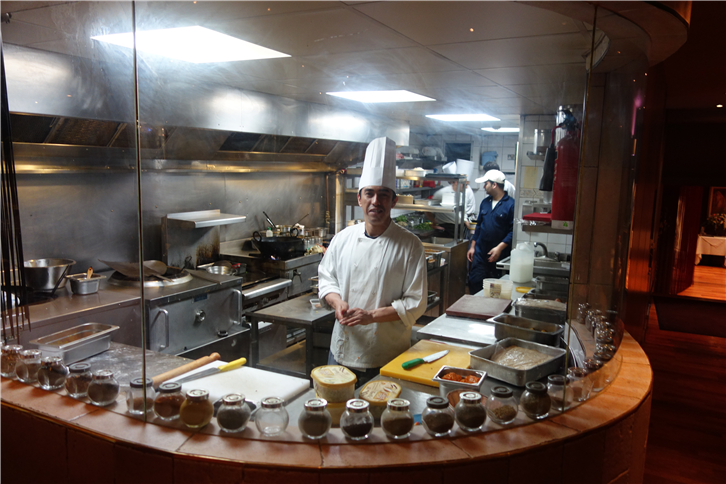 The Royal Academy in Piccadilly has opened up a members bar and restaurant to the public, at least in the evening. The Keeper's House is a basement dining room run by Oliver Peyton, with an Italian chef who has worked at some of his other restaurants cooking British food. The room was refreshingly free of noisy music, and obviously they didn't have to look far for artwork to decorate the room, so my initial impression was positive. Unfortunately the food did not deliver, with several dishes remarkably absent of flavour, though at least they made their own bread. Not a keeper, unfortunately.
Vinoteca has opened a branch in a busy part of Chiswick, and certainly brings to the area a very good wine list. Sadly the food was very much a second string to the wine, and although the place seemed to be doing well it was surely not due to the very ordinary cooking.
Some old favourites delivered much better food. Haandi (pictured) is one of those restaurants that never gets any media attention, but just ploughs away producing very good Punjabi dishes. Remarkably, given its Knightsbridge location, it is excellent value, with a meal there including drinks likely to come to little more than £30 a head. For this you get lovely cooking, with particularly good vegetable dishes, excellent chicken tikka and some of the best paratha you are likely to encounter.
The Terrace on Holland Street delivered another very enjoyable meal this week. The cooking is genuinely good here, with mackerel on tarte fine a particularly impressive dish. The little dining room seats just 20 guests at full capacity, and service is as charming as the food. This is a restaurant that deserves wider recognition.
The Duke of Sussex is an excellent value gastropub in Chisiwick specialising in Spanish food, so you can have seafood paella as well as pub staples like fish and chips. They make their own sourdough bread from scratch in the tiny kitchen, and the food is consistently reliable. Our bill for two generous and enjoyable courses came to just £23 a head, which puts the pricing of many London restaurants into perspective.
The Michelin guide to Belgium and Luxembourg was published. There were no changes at the three star level. At the two star level there were promotions for Bon-bon and Bartholomeus, and demotions to one star for Danny Horseele in Belgium and Mosconi in Luxembourg. Belgium now has 3 three star, 17 two star and 101 one star restaurants. Luxembourg has 11 one star establishments.
The 2014 Switzerland Michelin has no change at the three star level, but one new two star in the form of a restaurant called focus. There were 15 new one stars and six demotions. Switzerland has a pair of three star restaurants, 19 two stars and 89 one stars.
The 2014 Spain Michelin brought with it a new 3 star in the form of Diver XO, a restaurant that was sufficently popular that I was unable to get a table there on my last visit tio Madrid, despite some advance planning. There were also two star promotions for El Portal in Rioja and M.B. in Tenerife, while Can Fabes closed. In total Spain has 8 three star restaurants, 17 two star restaurants and 134 one star restaurants. Portugal has 2 two star restaurants and 10 one stars.
The Micheln guide season is well under way now. The remaining 2014 guides to appear are the Netherlands (next week), Hong Kong, Tokyo and France (usually end February), plus the Main Cities of Europe Guide (March), which covers Scandinavia.
Steve Plotnicki is a New York food lover who publishes the Opinionated About Dining restaurant list, a voting list analagous to the better marketed, though in my opinion less reliable, San Pellegrino one. The list is also more democratic, so have a look at the site and register if you want to influence the 2014 list.
There will be a movie called "Foodies" coming to a screen near you in the spring of 2014, a documentary which follows five people who eat out a lot around the world. The film has been made by Swedish TV (the equivalent of the BBC) and is being distributed by the same company that marketed the food-related documentaries "Supersize Me" and "Jiro Dreams of Sushi". The trailer is here - if you click through you will see someone you recognise.