Behind the Bike Shed
Saturday, May 09th , 2015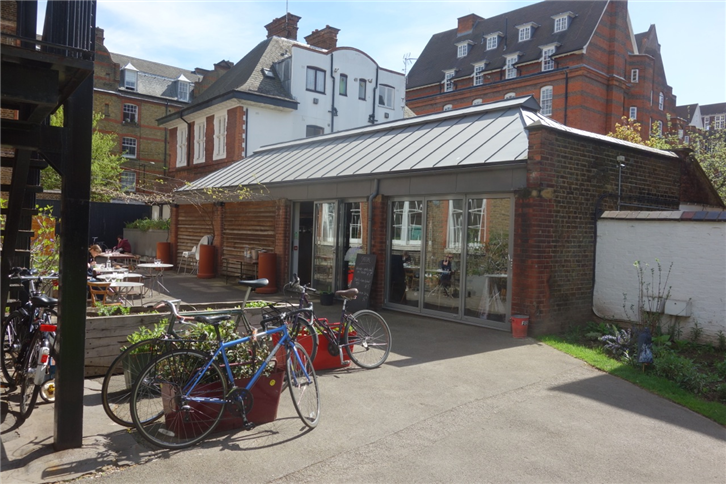 Just finding the Rochelle Canteen seems like an achievement. It is only open at weekday lunchtimes, behind a gate with a buzzer that leads onto a path taking you to the converted school bike shed (pictured) that is the dining room. With ownership links to St John the food is robustly and simply British in style, with dishes like smoked mackerel with seasonal Jersey Royal potatoes and watercress a good example of the unfussy cooking style here. This is not a place for a smart lunch with fawning service, but I enjoyed the dishes, and on a sunny day the outside tables in the secluded courtyard are an attractive lunch spot.
The Royal Oak in Paley Street (near Maidenhead) has recently switched chefs, with Dominic Chapman striking out on his own at The Beehive. However the formula at the Royal Oak is sensibly unchanged, with the new chef Michael Chapman (no relation) having been sous-chef here previously. The menu is especially appealing, and care and attention to ingredients could be seen in unusually good heritage tomatoes, and superb salt-baked celeriac with my chicken main course.
HKK is in a rather out of the way location, but the tasting menu contains some genuinely top notch dishes, and the service is superb. The dim sum plate is always special, up there with the very best that Hong Kong can deliver, and the Peking duck is the best in London. Even the desserts, often a joke in Chinese restaurants, get proper attention here. At this meal a passion fruit jelly with lychee tapioca, sesame, lime and chocolate was refreshing and lovely.
I had my 58th meal at Hedone, which continues to produce arguably the best dishes in London. Certainly the top dishes here tonight - the crab and avocado nibble, the liquid Parmesan ravioli, the asparagus – were at 3 star Michelin level, as were the strawberry textures dessert and the equally lovely chocolate ganache with raspberry powder. It will be interesting to see whether Michelin gets its act together this year and gives the second star that the restaurant richly deserves.
The 2015 Opinionated About Dining Top 100 restaurants in Europe list came out this week. No list is perfect, but this one is based on over 4,500 regular diners (rather than chefs or industry figures), and features some excellent restaurants without marketing budgets that the San Pellegrino awards ignore, such as Ibai. It is a refreshing perspective on the high end restaurant scene.