Indian Cuisine Accentuated
Saturday, December 23rd , 2017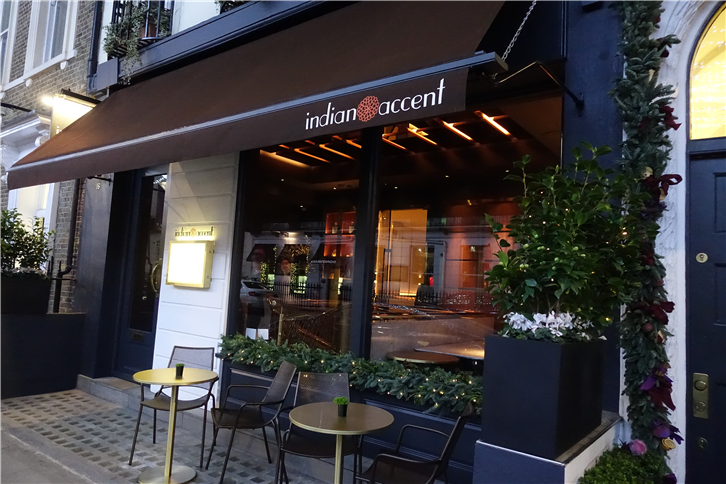 Indian Accent is the best restaurant that I have eaten at in India, taking a modern approach to Indian cooking. It serves dishes with dishes like blue cheese naan and Kashmiri morels with walnuts, and sits at position 78 on the "Top 50" (which is really a top 100) restaurant list, the only restaurant in India to feature. They have a branch in New York but I was particularly interested as to what the London version would be like, given how much more embedded in the culture Indian cooking is here than in New York. I am pleased to say that the Albermarle Street version is excellent, bringing with it many of the signature dishes from India but also adapting to local ingredients in places. The room is smart and the service slick, and although this is not cheap it is very much there with the absolute best in London even in the first days of operation.
The Dysart in Petersham (near Richmond) is an old favourite, its chef having won the Roux Scholarship in 2010. The Dysart has a cosy dining room with a big fire, well spaced large tables and friendly staff. At this visit we opted fro a tasting menu, though you can also go a la carte. Highlights included charred mackerel with kombu-braised daikon, ginger and champagne sauce, which is a signature dish of the restaurant. I also liked stone bass with spinach and champagne sauce. The restaurant has an unusually well thought out and kindly priced wine list, so is well worth your time if you are in west London.
Parlour is one of my favourite places to eat in London. Chef Jesse Dunford Wood takes an inventive approach to retro British dishes and reinvents them for the modern era. Things that haven't seen the light of day for decades, such as chicken Kiev and arctic rolls, are regulars on the menu here. They also smoke their own salmon here, and very good it is too – I prefer it to pretty much any of the well known London smoked salmon merchants. Parlour may not win any awards for décor, down an alley in Kensal Rise, but the food is classy.
I also had another excellent value meal at my local haunt l'Amorosa. At my latest meal a saffron risotto had silky texture, and a wild boar ragu had real depth of flavour. This is a classy Italian cooking at a modest price point, from a chef who held a Michelin star for many years.
Happy Christmas everyone.