Happy New Year!
Saturday, December 29th , 2012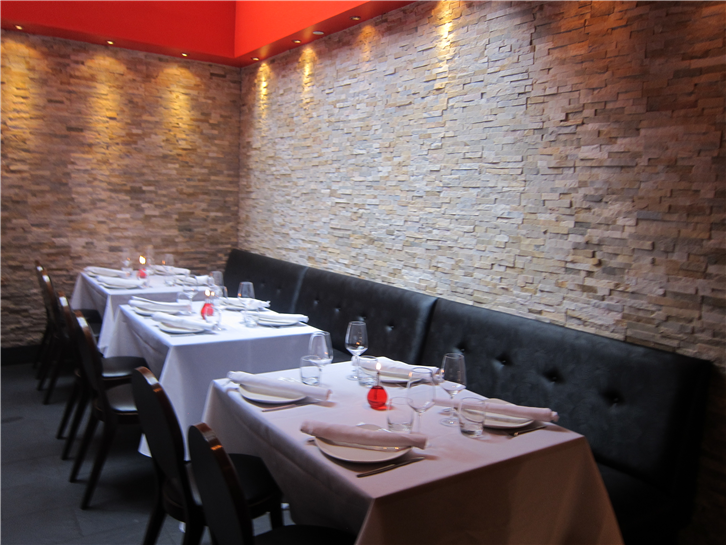 The Belgian Arms is a 200-year-old pub in a Berkshire village, taken over a few months ago by Nick Parkinson and Dominic Chapman, who run the Michelin-starred Royal Oak. The Belgian Arms aims at a less ambitious level, producing British food more familiar in a pub environment, but with a chef that worked at Pied a Terre. The meal was enjoyable and good value, with a partridge and red cabbage dish in particular very good indeed. There were still a few rough edges in the cooking compared to the sleek fare of The Royal Oak, but these were relatively minor issues that will doubtless be ironed out in time. Service, led by a manager who used to manage The Canteen in Chelsea Harbour many years ago, was friendly, and the bill will be modest if you keep away from the better end of the wine list, which I failed to do.

Cambio de Tercio (pictured) has for some time been the best Spanish restaurant in London, favoured by Rafael Nadal when he is in London; celebrities are rarely the epitome of restaurant taste, but Mr Nadal is a foodie, and I bumped into him recently when eating at the excellent Elkano in Getaria. Cambio's cooking is more ambitious than the usual tapas food found in most of London's Spanish restaurants. A lengthy tasting menu this week featured a tomato slow-cooked for eight hours with very intense flavour, and lovely Iberico pluma (pork shoulder) amongst a range of high quality dishes. They do an excellent rendition of the modern patatas bravas popularised by Sergio Arola in Madrid (originally developed in a restaurant in Seville). As a bonus, the wine list is excellent, with a deep coverage of Spanish produces, and the widest selection of sherry in London.

I have been visiting The Brilliant regularly since I came to London (it opened in 1980). The Brilliant is a Southall institution, owned by Gulu Anand, who along with his nephew Sanjay (who owns Madhus's) lifted the level of Punjabi cooking beyond the basic cheap and cheerful curry houses that the area was known for. They are well-known for their butter chicken, and in my experience are good at pretty much anything that comes out of the tandoor, as well as cooking rich, hearty curries in traditional style. They are one of the very few restaurants in London to make romali roti, and the bhatura bread was also good this week. Portions are family sized, so it is easy to over-order, but they will pack up what you can't eat: £50 will buy you a meal for two and enough food for a further meal at home.

As this is the last blog of 2012 I would like to wish you all happy New Year, and happy eating in 2013.