A Visit to Hamburg
Saturday, April 30th , 2016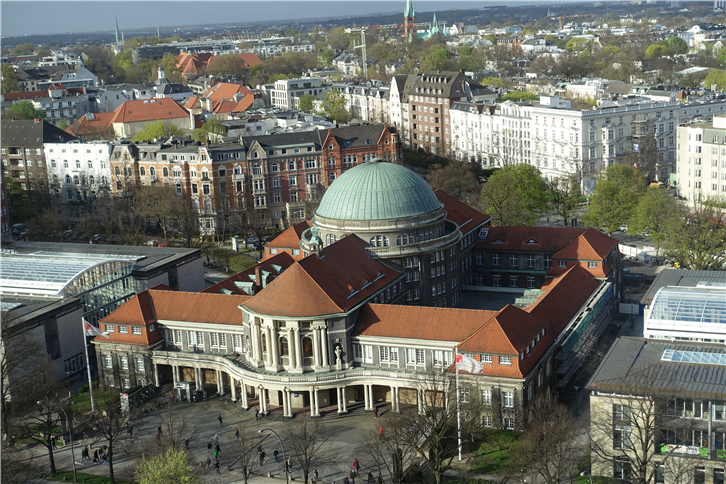 Hamburg is Germany's second largest city, a port in the north of the country with lots of canals. I tried a pair of Michelin-starred restaurants there and a fairly new, up and coming place, based on local advice. Piment was a bit disappointing, a fusion of French and Moroccan cooking that sounds appealing and did feature some nice dishes, but was let down by a couple of very poor courses. It is one thing for slips to occur at a simple café, but when you are paying this sort of money then it is less easy to forgive.
Anna Sgroi was more consistent and also cheaper, serving some enjoyable Italian food in a pretty townhouse. Despite a heavy hand in the kitchen with the salt cellar I liked an asparagus risotto, and in particular an excellent cake for dessert. Service was rather inexperienced but it was a perfectly enjoyable meal, and just about justified its star rating.
Jellyfish is a (mostly) seafood restaurant with a theme of using sustainably sourced fish, an admirable code to live by. This ticked all the trendy boxes with its casual dining room, laid back (borderline slow) service and "menu of the day" approach – you just select the number of courses that you want. There were some very pleasant and at times quite adventurous dishes and no real duds amongst them, though the bill mounts up quite quickly here.
Back in London, Bellanger is the latest in the ever-expanding Corbyn and King empire. Bellanger looks to the food of Alsace for inspiration, and has the usual trademarks of this restaurant group of having a lengthy and appealing menu, attractive dining room and well-drilled service. It was, however, less consistent than other places within the group, so although there was a very nice tarte flambée there were some distinctly ropey vegetables and a disappointing dessert. Such slips are always irritating, but more so at the relatively high price point here. Somehow the establishments within this group seem to have enough charm and overall appeal to be full despite a consistent issue of debatable value for money (except for the vast Zedel, which is actually quite cheap). This was no exception, the dining room packed out, with customers clearly happy to pay the prices here. Charm can take you a long way.