The Game Bird and other stories
Saturday, May 27th , 2017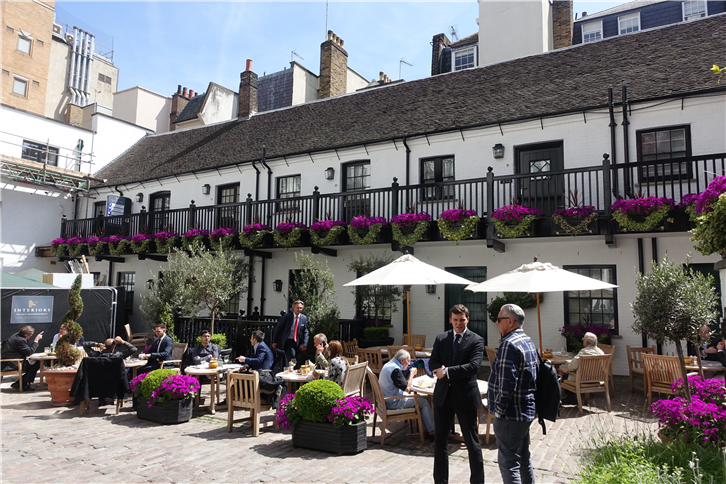 The Stafford is a boutique hotel tucked away in a cul de sac off St James Street. The Game Bird is its recently re-launched restaurant, with a former serious sous chef from Gordon Ramsay's flagship restaurant at the helm. The style here is more relaxed than fine dining, but the class of the cooking showed through in dishes such as a superb venison tartare, exemplary fish and chips and a classy pistachio soufflé. As a bonus, the wine cellar is very interesting here.
Lorne was another pleasant surprise, a simple looking place in the culinary tundra of Victoria, a few yards away from the lovely A. Wong. Lorne's chef worked at Benu in San Francisco, but fortunately his menu here is a lot more approachable, with a choice of dishes with recognisable ingredients rather than an endless tasting menu game of "guess what this weird thing in the plate is?" that all too many US chefs delight in playing with their customers these days. I particularly liked a sweetbread dish at Lorne, and there was an excellent pea mousse with brown shrimps and lemon too.
Quartieri is a new pizzeria in Kilburn, the first London outpost of a famous Naples Pizzeria in Naples called Trianon. This is the second Naples pizzeria that has sniffed opportunity in the capital, with Pizzeria Da Michele opening a branch in Stoke Newington a few months ago with much fanfare, though little in the way of delivery n my visit there. Quartieri at least managed some nice decor and helpful staff rather than the service train wreck of Da Michele. However the pizza itself, which is obviously the key thing, was pleasant rather than anything special.
By contrast l'Oro Napoli, a home grown Naples pizzeria in South Ealing with none of the PR and hype but a lot more to show in terms of substance, has pulled off a successful second branch in the distinctly unglamorous location of Hanwell. The décor is basic and the service just about functional, but the pizza here was really good, just as it is the mother ship in south Ealing. By putting their efforts into what is on the plate rather than worrying about PR and press, l'Oro Napoli shows how it should be done.