Oranges Are Not The Only Fruit
Saturday, June 02nd , 2018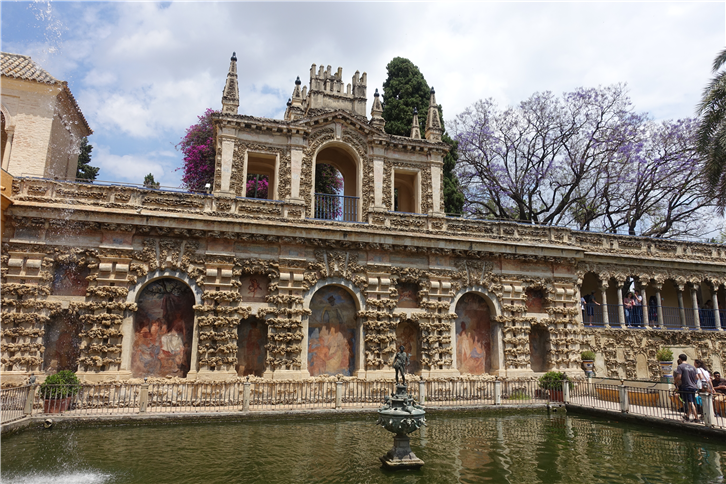 This week was spent in Seville and the nearby area. I needed to go to Aponiente in order to keep up with the Michelin three star carousel, which this year has bestowed a third star on no less than sixteen restaurants around the world. Aponiente is near Cadiz, but it can also be reached by train in just over an hour from Seville, which is a very beautiful city to visit. It has sights such as the Alcazar royal palace (pictured), which is a UNESCO world heritage site with fine architecture and beautiful gardens.
Seville itself has a very well preserved Old Town, whose narrow streets are shared by throngs of tourists, impatient motorists and the odd horse and carriage doing a tour. The bustling Old Town is packed with tapas bars and restaurants, with places such as La Azotea. To explore the tapas scene properly then it is worth getting some local expertise, such as that of the knowledgable Shawn Hennessy of the excellent and long established Sevilla Tapas Tours.
We had time to try two well-known and very different seafood restaurants. Canabota is fairly new and centrally located, with a relaxed atmosphere and an element of theatre with its display of seafood and open kitchen. I had some lovely langoustine cooked over charcoal here, as well as very good croaker (a huge fish reminiscent in taste of sea bass).
Even better was Jaylu, situated out of the centre across the canal, and with a much more formal atmosphere. The seafood here was every bit as good though, with particularly excellent tuna tartare, good sea bass and superb fried anchovies, as well as having the bonus of a kindly priced wine list. This feels far from the bustle of Canabota, but the restaurants's fifty year (and counting) existence shows that it has staying power.
Aponiente itself is in a distinctly industrial location on the edge of the town of Puerto de Santa Maria, and its kitchen is on a mission to explore the boundaries of what can be done with seafood. Here you will find seafood charcuterie, seafood cheese (I am not kidding) and more ways of serving plankton that you are ever likely to have previously considered. The waiters were enthusiastic and charming and some of the dishes were very good, though there were some distinctly strange ideas mixed in on the lengthy tasting menu that we encountered.