Some top restaurants of West London
Saturday, January 16th , 2010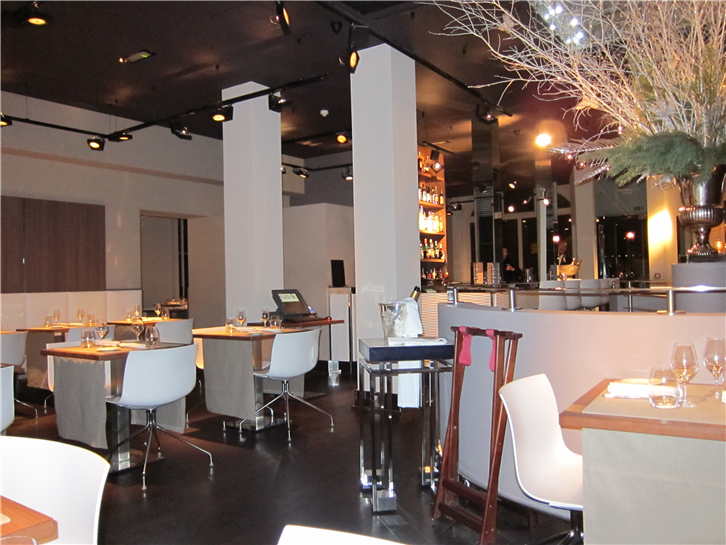 I managed to go to two restaurants this week that gained Michelin stars, as we shall see.
It was rather sad to go back to the premises of Ambassade de l'Ile, whose two star chef from Lyon produced some stunning dishes before falling out with his main financial backer a few months after opening. Now re-launched as a bistro (pictured), the main asset is the new head chef, who was a sous-chef in the old incarnation. He can cook very well, as was demonstrated by a fine foie gras dish. However the cooking sits somewhat uneasily between bistro dishes and serious restaurant food, but the prices are very firmly at the upper echelons, with main courses as high as £27 and vegetable side dishes at £4.80 apiece on top. While the food was objectively quite good, the service was careless and I simply don't think the prices are justified for this kind of cooking.
By contrast, Kitchen W8 knows exactly what it is doing, with appealing dishes at sensible prices, very well executed. For example rilette of salmon had good texture and flavour, haunch of venison was carefully cooked and ratte potatoes had excellent texture. There is nothing over-complex here, but it delivers, which is just what I am after in such a setting. Ironically the meal here was significantly cheaper than that at Bistro K, yet the cooking was better and the setting more welcoming, which may explain why Kitchen W8 was busy on a Sunday while Bistro K was pretty deserted on a Saturday.
Over the years I have found the food at the Ledbury to be very enjoyable. Ingredients are good, presentation pretty and the menu fairly appealing. This week I tried the current tasting menu, which had some quite complex dishes. Indeed for me the cooking was crossing the line into over-complicating at times. The most successful dishes showed off the strong technique of the kitchen, such as a superb passion fruit soufflé with terrific texture. Also excellent was a beetroot sphere containing foie gras cream, which is a logical contrast in terms of texture and flavours. While it is hard to find fault in the technique, I found some dishes in this tasting menu over-worked, as if the kitchen was showing off its technique rather than thinking about whether the clever touches really added anything to the overall dish. The recent style was however, to Michelin's taste (see later).
The Harwood Arms continues to be my favourite gastropub, providing appealing dishes but with strong ingredients and a level of technical quality that would shame many grander establishments. A nice touch this week was a pheasant Kiev, an interesting take on the classic chicken version, with pheasant having the advantage of more flavour than chicken; this meat worked fine with the garlic butter. The pheasant was served on a bed of smooth mash and excellent red cabbage (5/10). Marmalade doughnuts were technically strong, and the choice of marmalade as a filling was a good one, with the sharp, bitter taste of the orange cuts through the richness of the sugar-coated doughnut (6/10). Coffee was also of high quality, better than plenty of smarter restaurants. Moreover, it now has star quality.
The 2010 Michelin UK guide turned out to be nothing if not controversial, promoting Alain Ducasse at the Dorchester to three stars. On the basis of my own two experiences this seems surreal (desserts aside; these are truly top class) and I am sure I will not be the only bewildered person out there. The Ledbury was promoted to two stars and I was delighted to see the Harwood Arms given a star, while a well-deserved star went to Apsleys, and also to the enjoyable Bingham. Tamarind regained its star, while Texture gained one, as did Galvin at Windows. Gordon Ramsay at Claridges lost its star (I confess I have not been here for years), as did the overrated Assagi. The Capital lost both stars following its loss of head chef Eric Chavot..
For the full set of UK Michelin stars see my list. As ever the 3 star list is here. The UK map has now been updated also.