Santorini
Saturday, June 09th , 2018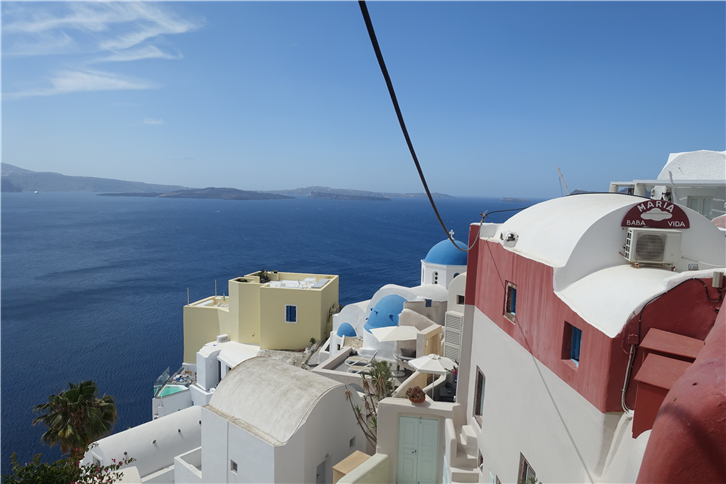 Santorini is a Greek island that is formed around a sunken volcanic caldera (it happens to be the largest caldera on earth). There are two towns, one called Firo near the airport, and the other, called Oia, clinging picturesquely to the cliffs on the north edge of the island. The holiday brochure pictures that you may have seen of Santorini, looking out to the sea with pretty blue domed stone buildings in the foreground, will have been taken at Oia. From top to bottom Santorini is fourteen miles long, and its dramatic setting and warm climate means that it is a tourist magnet, with an endless supply of cruise ships stopping off. Other than tourism, the island is known for its wines, the local Assyrtiko grape capable of producing high quality, acidic wines with a citrus fruity bouquet. The notoriously high winds here mean that the grapes are trained low near the ground, or protected by baskets, rather than as you would see vineyards in France or Italy. The hot climate also allows it to produce excellent cherry tomatoes, along with white aubergines and fava beans. However, other than the vineyards the economy is mostly driven by tourism, and even in May the bars and cafes were becoming busy. This is a good time of year, to visit, since the weather this week was 24C rather than baking hot, the tourist hordes have yet to arrive en masse and rain here is as rare as the English cricket team managing an innings without a batting collapse. If you come to Santorini for any length of time then consider hiring a car, as although the island is not that large, the taxi drivers appear to have modelled themselves on the highwaymen of old. Taxis have no meters and extract vast fares for short journeys, there being no competition from Uber. The three kilometre trip from the airport to our hotel here at €20 was pricier than the 33km airport taxi journey that we made in Athens, and a cab driver here won't as much as look at you for less than €10. To put this into a global context, the website The Price of Travel does a survey of 88 global cities to compare the cost of a 3km taxi fare; its last update reckoned Zurich was the costliest city at €19 for a 3km fare, still less than our €20 fare here of the same distance. Hence Santorini taxis appear to be literally the costliest on earth: such is the price of such a beautiful location, and municipal authorities that allow this daylight robbery to unfold. Incidentally, on departing the island the little airport has an attractive outdoor cafe where you can have a drink in the sunshine while you await your flight, which is a nice touch, and a lot more civilised than the woefully small un-air conditioned holding pen that you encounter once you go through security.
On the food front there are some similarities in my mind to Venice, another place whose businesses have become accustomed to milking tourists who visit briefly and are unlikely to return. There are three upmarket restaurants on Santorini. One is Lycabettus, which has a genuinely spectacular setting in Oia but where the sky high prices are matched only by the mediocrity of the food. The old stager on the scene is Koukoumavlos, which also has a lovely view but whose menu was full of barking mad flavour combinations with far too many elements on each plate. Selene, which is away from the main tourist areas, was far and away the best of the smart places, serving food of one Michelin star level in my opinion.
We fared better at the tavernas. Aktaion has been running since 1922 and serves traditional dishes like moussaka, and fried balls of local vegetables, at a modest price. It was a real pleasure to eat there compared to vastly more expensive yet inferior Lycabettus and Koukoumavlos. Even better was To Psaraki, another taverna near the island's port, serving excellent seafood such as terrific grilled sardines. Santorini is a spectacularly beautiful island, and there is surely an opportunity for better high end restaurants than currently seem to exist, given all the tourist money that passes through here. Until that happens then there are fortunately some very enjoyable tavernas to enjoy in Santorini plus the excellent Selene. Also the views, which are really special.