From Covent Garden to Bray
Saturday, November 12th , 2016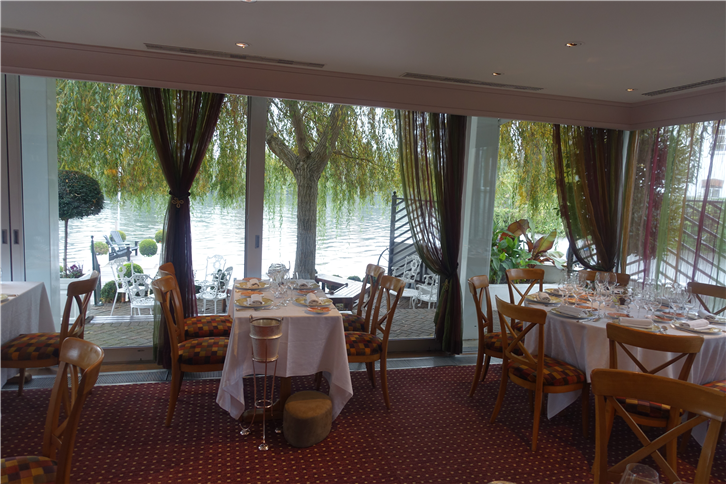 Talli Joe is an all day Indian restaurant in Covent Garden. Its chef has an unusual background, having been head chef at Benares but also having cooked at serious French restaurants such as The Waterside Inn and Koffmann. The menu ranges across India and the portions/plates are deliberately small so that you can share a decent number of dishes. I thought that the food was excellent, with superb sorpotel (a Goan pork curry) and terrific paratha the highlights of the meal. We tried quite a few dishes and there was not a dud amongst those that we sampled. After a couple of quite disappointing Indian restaurant openings recently in central London it was a real pleasure to find a place that actually exceeded my expectations.
The Waterside Inn is an iconic UK restaurant, the second to gain three stars after Le Gavroche, and having retained its three stars unchanged since 1985. It has a beautiful riverside setting in Bray, an elegant dining room looking out over the water and a particularly well-trained service brigade. Its classical cooking is just the kind of food I most like, but in recent times I have been somewhat ambivalent about the food here. Desserts have traditionally been excellent, but inconsistencies have crept in to the savoury courses over my most recent visits, culminating in me sending a warm vegetable salad dish back at a prior meal, which should never happen at a serious restaurant. On this occasion the four courses that we tried were pleasant but underwhelming. There was a very small dish of raw scallop and smoked salmon, a pleasant turbot paired with a peculiarly sweet sauce, excellent venison Wellington and a trio of decent but far from dazzling desserts. I was tempted to downgrade my score for The Waterside on my last two visits, but this meal is further evidence enough for me to reduce its rating. I have noticed other less than happy reviews from others of this restaurant recently and was really hoping that I had just been unlucky, but over the four courses there was just one dish that was worth anything close to three stars, and at this price point that is not good enough.
Sindhu is a restaurant run by Atul Kochhar (of Benares) but located not in Mayfair but in Marlow in Buckinghamshire. It is in the Compleat Angler hotel, and has a fine view out over the nearby river and Marlow bridge. The menu is ambitious and the service operation slick, but more importantly the food is very good. I particularly enjoyed a stone bass dish and a terrific black dhal, and breads were excellent too. This is not a cheap evening out, but the culinary level achieved here is high. If you are ever out in this part of the world then it is well worth a look.
Villa Geggiano occupies a tricky site near Stamford Brook bus garage, a location that has seen off a series of restaurants over the years, one of them at least having been pretty good. This restaurant is owned by an Italian wine family, and they have installed a competent chef and furnished him with better produce than you would expect in a local restaurant, much of it imported from small producers in Tuscany. The large dining room is complemented by outside seating in good weather, as well as a pleasant lounge. The food here is not aiming for anything ambitious, but the dishes are mostly well made and the service is friendly. It is certainly a very pleasant addition to the area and I wish it well. The tagliolini with white truffles that I tried this week was genuinely good.