The Square revisited
Saturday, July 09th , 2011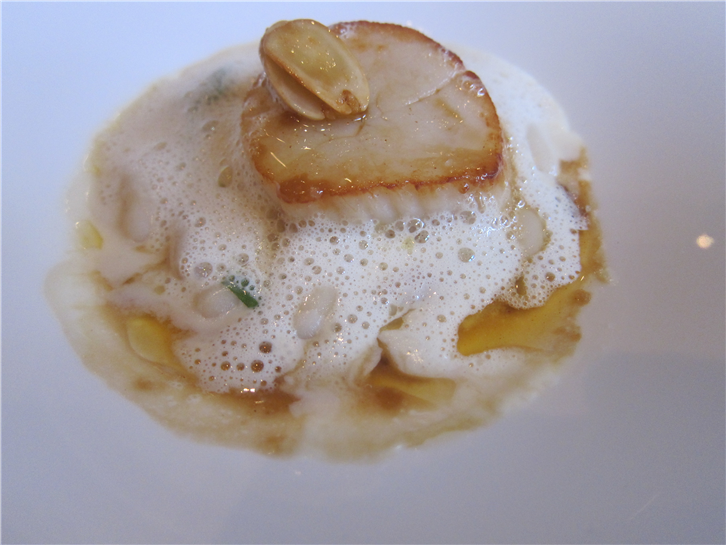 Koya is one of those places that focuses almost entirely on one kind of food, in this case udon noodles (the thick white ones). It does so very effectively, the hot noodle dish that I tried this week with miso soup being genuinely excellent; a prawn tempura dish was also classy. This is a casual place with no reservations taken, but it is rare to find somewhere in central London with high quality food and low prices, rather than the other way around.
I went back to The Square with some American visitors this week and went for the tasting menu. As ever, the food was carefully executed and the menu featured lots of appealing dishes that do not try to shock the diner with weird ingredient combinations. I especially enjoyed a dish of scallops with coco beans (pictured), and the signature dish of langoustine tail with Parmesan, potato and truffles. Service was excellent, something the Square has improved at significantly in recent years.

Cassis delivered another enjoyable meal. As on my previous visit, the savoury dishes were very good but easily the star turn was the dessert course, in this case a really classy orange and Grand Marnier soufflé - their pastry chef really can cook. The restaurant was very busy on a mid-week evening, and I can see why.

I also returned to Franco Manca, which continues to produce the best pizzas in London from its high-end Neapolitan pizza oven. I am always amazed that the price of the pizzas here is actually less, rather than more than, the high street chains. The little details are also excellent, such as unusually good espresso from the Monmouth Street coffee shop. This is a real bargain, though the service is distinctly chaotic.

I am pleased to add a chef interview to the site with Steve Terry, who produced a couple of excellent meals for us at The Hardwick on our recent trip to Wales.

Next week will feature a meal or two off the tube network.

In other news, Gauthier became the first Michelin starred restaurant in the UK (and possibly anywhere) to add calorie counts for dishes to their menu. Given the way the wind is blowing (in New York restaurants with more than a certain number of branches have had to display calorie information for three years now, and some UK chains have already followed suit following a nudge from the UK government in 2009) this seems a smart move to me to get ahead of the curve. It was nonetheless greeted with adverse comments from certain print journalists. Personally I can't see any harm at all, and for those following a diet such information is really useful, as generally in restaurants it is difficult to estimate calories just from their descriptions.