Manoir au Quat Saison revisited
Saturday, May 05th , 2007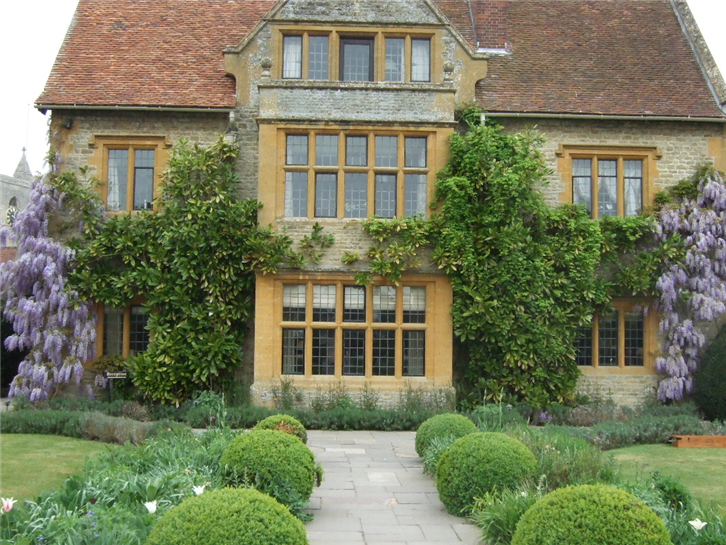 The week began in style with lunch at the Manoir aux Quat' Saisons near Oxford. Manoir has a stunning setting with beautiful grounds, and as well as having pretty gardens it makes good use of its land by growing virtually all the vegetables and herbs used in the kitchen. One of the weaknesses of the UK relative to France and Italy is the quality of vegetable produce (if you doubt this, have the bargain lunch at the Louis XV on the Riviera, order a summer salad and you will put any doubts to rest very quickly). Manoir is in control of its vegetables, so is one of the very few places in the UK that at least has a fighting chance of producing top quality vegetables on its plate, and this it does. We had a "discovery" tasting menu, which I have written up in detail on the review section of this site, but suffice it to say that it was superb. One stand-out dish was a tagliatelle of summer vegetables in a froth Parmesan sauce; this is such a simple dish and yet was pasta was about the best I have eaten anywhere, the baby vegetables perfectly fresh, the sauce superb. I am very fond of bread, and here the bread is the best in the UK, with for example sublime sourdough bread and a range of beautiful rolls. Le Manoir has had its relative ups and downs over the years, but this meal was one of the very best I have eaten here, suggesting it is on top format the moment. Rather to my surprise, the meal here was better than the one I had at the Waterside Inn a couple of weeks ago, despite their relative Michelin rankings. Certainly based on this meal it is hard to grasp why this is does not have three stars.
Back in London we had an extremely good meal at Tom Aikens, which is never a place I really warmed to on previous visits, much as I admire the cooking skill on show. The technique is genuinely excellent here. Compared to my previous visits Tom has toned down his tendency to put too many flavours on a plate, and this for me improves the overall effect. Only at the petit fours stage do you see taste overload, with over twenty (very good) petit fours in all sorts of shapes, sizes and test tubes. A cheese board with several cheeses in suboptimal condition was the only real blemish on the meal.
When someone mentions "fusion" cuisine I always think of the Frasier episode when Niles describes a new, hot fusion restaurant in Seattle: "It is Polynesian Scandinavian; the coconut herring gets three and a half whisks in my gourmet magazine". I was rather dreading something like that at Providores, but was pleasantly surprised by this New Zealand owned restaurant, which as a nice touch has a virtually entirely New Zealand wine list. Dishes are certainly over-complicated for my taste, but ingredients were decent and the cooking technique capable. An example would be goat cheese cheesecake with mangosteen, lychee, passion fruit and elderflower salad, which was well made, but the pistachio praline was one flavour too many for me. A pleasant place though at £80 a head with modest wine it is no bargain.
Finally I tried Michael Moore in Marylebone, and found it quite a difficult meal to assess. The restaurant has very positive internet reviews, and serves surprisingly ambitious French food. We had one of two lengthy tasting menus with matching wines. Some of the dishes were just poor ideas e.g. a scallop was presented with a chilli accompaniment so fierce that it utterly overwhelmed the scallop. There was also a really dire dessert, a sort of 1970s dinner party throwback with chocolate fondue and kiwi fruit. Yet there were also some good dishes such as an excellent soft shell crab. The even make the bread here, and very pleasant it was. £90 a head is not cheap but we had a lot of food and wine, though the cooking is very erratic for that price level.
Next week's blog should be interesting as I report back from the new 3 star places in Paris.