This week features new Italian restaurants in London
Saturday, March 17th , 2012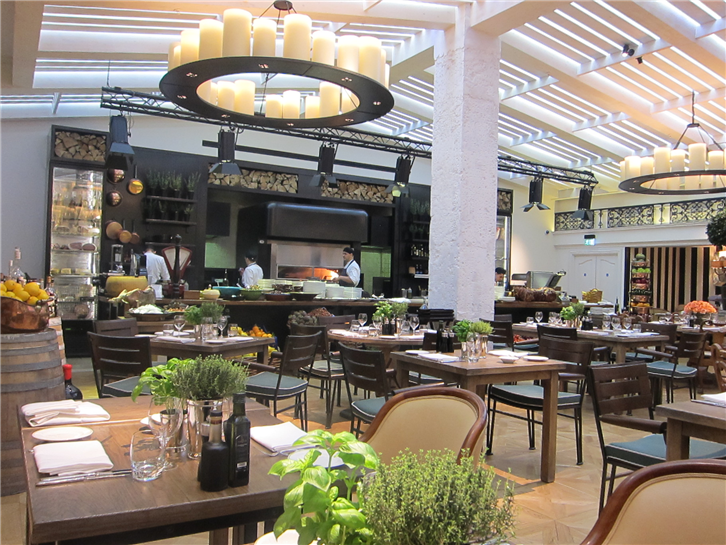 This week I tried three fashionable Italian restaurants in central London. The vast Novikov has two restaurants, one Asian and the other Italian. Novikov will tend to inspire strong views due to its Russian owner and its vast scale, but I found the food itself good. I particularly enjoyed a simple pasta dish that was skilfully made, and the room itself is attractive, giving the appearance of being a courtyard with a large skylight (pictured), despite actually being in a basement. No one can deny its commercial success, the restaurant already doing a high turnover of customers despite its high prices.

Tempo has the unusual twist of having a Japanese chef, albeit one who had trained in Italy. This was the least satisfactory meal of the trio of Mayfair Italians this week, as there was a lack in consistency in the cooking, which was a little odd given that this restaurant has been open over a year. For example, the gnocchi was genuinely good, yet my risotto was soggy and a side dish of spinach also watery. Although the cooking standard was mostly reasonable, at the Mayfair prices that are charged here this unevenness in the cooking was disappointing.

The best of the trio was Cotidie, which opened just a fortnight ago. Its chef, Bruno Barbieri, has held two Michelin stars in Italy, but has now moved to London. There is an emphasis on ingredient quality: 85% of the ingredients come from Italy, and all the pasta used is made from scratch by a 70 year old lady from Bologna who is a noted pasta specialist. There were a few slight rough edges on our visit so early on, but the general high quality here was evident, and I will happily return and watch the cooking develop as the place settles down.

The Lawn Bistro in Wimbledon is the latest kitchen for Ollie Couillaud, who was the chef in the early days of La Trompette, amongst others. The cooking here is rather less ambitious, though skill could be seen in an excellent foie gras terrine. The delivery here was a little uneven (Ollie was not in the kitchen, which probably did not help), with a tuna dish cooked for a little too long, though there was certainly nothing that was a real problem. Service was also less than flawless, though friendly. Despite these quibbles, this is surely still the best restaurant in Wimbledon, an area (like Hampstead) that has for some reason lacked good restaurants despite its evident wealth.

The final Michelin Guide to 2012 came out, the Main Cities of Europe, which covers countries without their own Michelin country guide, such as Greece and Denmark. Michelin continued its consistent stance on Noma with two stars, despite the inevitable media pressure. Two stars were awarded to Gourmet Restaurant Silvio Nickol in Vienna, and to Maaema in Oslo.