From Berners Tavern to Brentford
Saturday, November 16th , 2013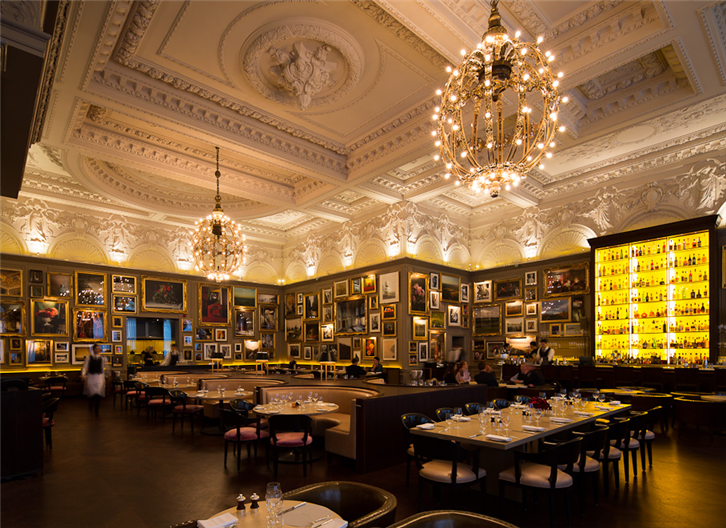 Berners Tavern is the latest addition to the Jason Atherton empire, and features a spectacular dining room designed by Ian Schrager. Though a large scale restaurant, the food was consistently enjoyable and the service terrific. It is already packed out, and doubtless will be for the forseeable future.
HKK served a shorter menu at lunch, but still managed to fit in high-class dim sum and excellent Peking duck. A spicy lamb dish also worked well, as did a refreshing mandarin jelly dessert. Service is exceptionally slick here, and it was good to see it packed at a weekday lunch.
Hedone is moving to a tasting-menu format only, at least in the evenings. Avoiding the need to prepare a la carte dishes enables them to focus on fine-tuning the tasting menu, and on the evidence of my most recent meal the formula is working well. This, my 40th meal at the restaurant, included some old favourites like the umami flan, but also a dazzlingly fresh scallop, magnificent suckling pig and excellent red deer, amongst the many dishes tried. For a pure food experience it is hard to think of anywhere better in London.
The Watermans Arms is an old boozer in Brentford that i have a soft spot for due to the charm of its landlord, who in between the usual fish and chips rustles up good value Japanese pub food (his wife is Japanese and he lived in Japan). The place will not win any prizes for decor, but if you are in the area and fancy some hearty izakaya fare at a low price, I recommend it.
Micheel Nadra is presumably pre-occupied with his new, and much larger, venture in Primrose Hill than his Chiswick original. A lunch here was decent enough, but seemed to be a notch lower in quality than previous meals that I have eaten here.
The Michelin Guide to Chicago came out, with Alinea staying the solitary three star, and with two new two star restaurants announced:Grace (which has only been open a year) and Sixteen, which was promoted. Graham Elliot and L20 kept their two stars. There were five new one star restaurants, and in total Chicago now has 25 starred restaurants. There were no demotions at all from 2013.