The remaining Michelin US guides appear
Saturday, October 25th , 2008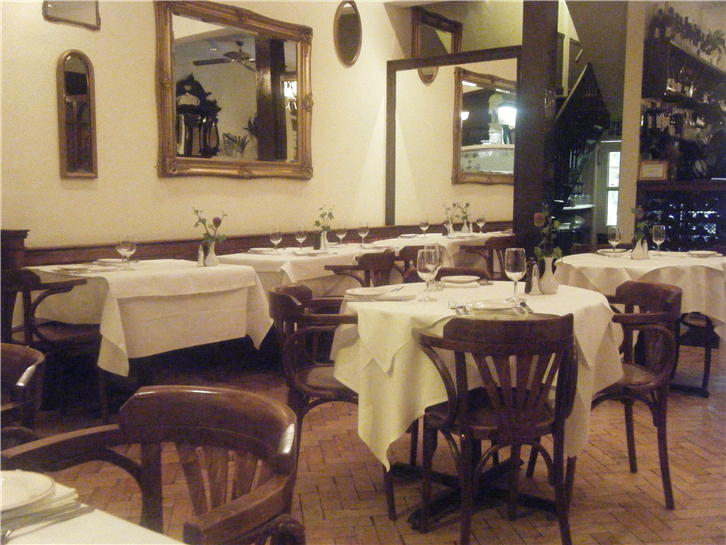 At
Haandi
we had the usual reliable feast of Punjabi food. As well as the dishes we frequently have (tender murgh burra tikka, rich and well spiced aloo gobi and channa that retain the texture of the vegetables) we also had tasty jeera chicken and "spicy prawns" that were exactly that. Bhatura was excellent. For a vast amount of food and drinks, including some champagne, this was still £32 a head in Knightsbridge.
Brula Bistro
(pictured) is a pleasant local place in St Margarets which I felt at times would be better to stick to bistro classics rather than trying to be more ambitious. I noticed a tendency to add just that one more flavour than was really needed, while for this kind of cooking it was odd to find consistent under-seasoning. The locals seem happy enough, and I suppose if this was at the end of my road I would be too, though I cannot help but observe that 3 courses are £29, with some decidedly ungenerous wine mark-ups. Compare this with my local La Trompette, which is £37.50 for three courses. OK, that is £8.50 more, but it is Michelin star cooking, and the wine list at La Trompette is both extensive and fairly priced. This does not seem like much extra to pay for vastly superior food.
Keeping in the local vein,
Karma
is a new South Indian restaurant in Stamford Brook. For years this was the site of the disappointing Woodlands, which was on sale for more than two years to my certain knowledge, but for some reason kept trading. Whenever I went past I saw at most a handful of dispirited diners. The new owners have brightened up the room a little, though the murky lighting is not to my taste. Bizarrely, they have employed one of the chefs from Woodlands, which is rather like employing
Dick Fuld
sort out the banking crisis. It seems that the cavalry may be on its way in the form of a chef from Tamarind, and we shall see whether this really improves the currently sorry food (which is scarcely cheap). I hope this does indeed happen, as the owner and her brother seemed genuinely nice, and it would be a shame to see yet another South Indian restaurant keel over in this area (
Ootupura
s the last one to enter the graveyard, and that had a good chef).
In other news, it looks as if things are not going so
well
financially at Tom Aikens, though his two restaurants are still trading. I wonder how much this has to do with the credit crunch, which after all has been going on just a few weeks so far, but it is certainly a troubling indicator for London restaurants.
The Michelin Guides to Los Angeles and Las Vegas came out. In the city of angels there are still no three stars, four two stars (an increase of one from 2008) and 16 one star places, up from 14 in 2008.
2 star
Melisse
Providence (new)
Spago
Urasawa
1 star
Dining Room at the Langham
Casualties were Joe's, Matsuhisa, Providence and Saddle Peak Lodge.
In Las Vegas there are now one three star, three two star and 13 one star places, similar to 2008. The only difference is that DJT is new and Mesa Grill was demoted. The full list is:
3 star
Joel Robuchon
2 star
Alex
Guy Savoy
Picasso
1 star
l'Atelier du Joel Robuchon
Mesa Grill was demoted.