The Cabin in the Woods
Saturday, November 28th , 2015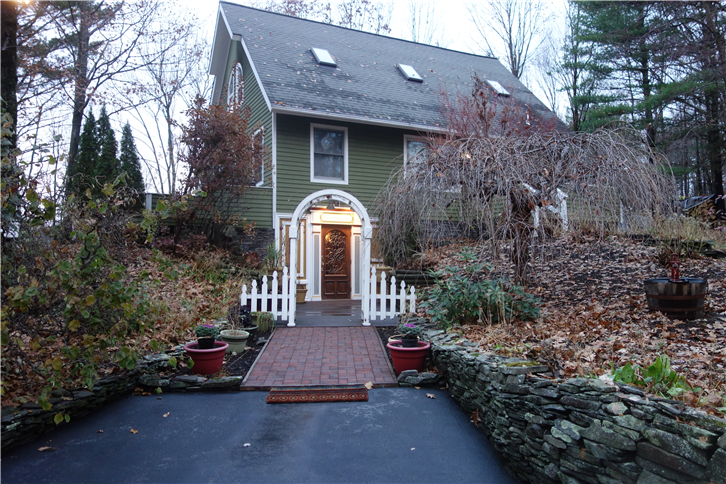 The Modern has had a Michelin star since 2006, soon after opened (I tried it briefly that year) but since 2014 has had a new chef, who recently picked up a second star for the restaurant. Within the Museum of Modern Art, it has a buzzy feel to the place, with a packed bar leading to a calmer dining room. The food is French, and made with care. The star dish was a pumpkin soup with hazelnut sabayon, but the general standard was very high, and I have no issue with its two star rating. Service was particularly smooth and there was a very good wine list too.
Rather than all fine dining, I was curious to try some more casual New York fare. Sedelle's does a very good artisan bagel, and I went on a miniature burger tour with two well-travelled diners. I confess that my experience of New York burgers up until now was limited and disappointing, having tried the highly rated version behind the "secret" curtain at the Parker Meriden, and reckoned it marginally superior to MacDonald's, but with worse fries. This time we tried burgers at Black Iron, Genuine, Rauls and Minetta Tavern. The first two of these were pleasant but ordinary, the burger au poivre at Raul's better and genuinely good. However by a wide margin the best version was at Minetta Tavern. Here the cheeseburger was excellent, but even better was the "black label" burger. This is made half with rib eye steak, the other half using their normal mix of chuck, brisket, short rib and skirt steak). This had lovely texture and flavour, and a good bun too.
Finally I tried for the first time the famous "cronut" from Dominique Ansel in Greenwich Village. A brilliantly marketed concept, queues for this are so long that there are companies you can pay that employ people to queue up for you. I have to say that the actual cronut tasted pretty unpleasant to me, neither a croissant nor a doughnut, which are both things that I really like.
The main focus of the trip was to visit a very interesting restaurant called Damon Baehrel, which is located in woodland around 120 miles north of Manhattan. This is a very unusual place indeed. The chef/owner runs a completely single-handed operation, acting as forager, cook and waiter to a maximum of 18 guests, who are served in a basement dining room in his house (pictured). To say that he takes a local approach to food would be an understatement. Since 1989 he has been serving a menu in which every component (barring seafood) is grown on his 12 acre property and nearby farm. He makes his own oils, his own flour, he cures his own meat, and makes dozens of his own cheeses. Local plant substitutes are used in place of lemons or sugar, in an approach he calls " native harvest" cooking. I was quite sceptical before I went, but what is impressive is that, despite the self-imposed constraints, the food is actually highly enjoyable, and the cooking very precise. He enthusiastically describes the considerable lengths that he goes to in order to produce the food, and is an engaging host. This is a good job, since our 20+ course meal took almost seven hours, yet the time seemed to fly by. Despite not using a PR company, and without even a phone number for the property, the restaurant has built up a tremendous word-of-mouth following, and the queue for reservations has reached epic proportions. It is currently booked until 2025, so I felt very fortunate to be invited to join a small group of diners there who had managed to finally make the list. You may not be able to go yourself given the distant location and crazy waiting list, but I hope that the chef gets wider recognition for his cooking and ultra-local culinary approach, which he was taking years before foraging became fashionable in restaurants.
The Michelin 2016 guide to Spain and Portugal was published. There were no changes at the three star level. Spain gained a pair of two star restaurants in the form of Coque and Zaranda. Spain now has 8 three star restaurants, 20 two star and 150 one star. Portugal has no three stars, 3 two stars and 11 one stars.