From Soho to Sussex
Saturday, June 25th , 2022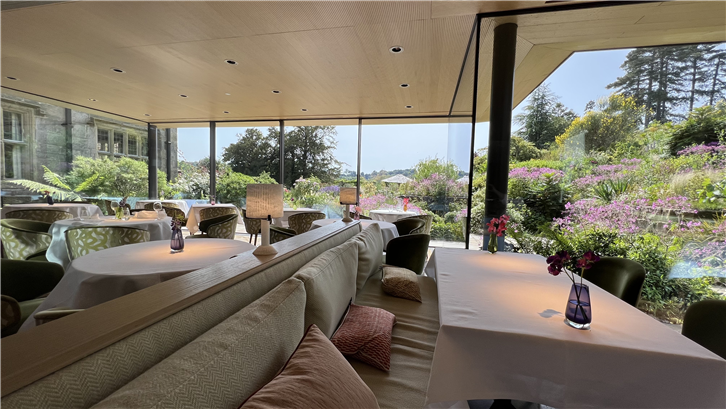 Gravetye Manor is set in an historic country house with famous gardens. Following a refurbishment, the dining room directly overlooks the garden and is quite spectacular (pictured). The food is good too, with solid one star Michelin cooking and vegetables that are grown in the huge "kitchen garden" that is bigger than some farms.
Gauthier in Soho has switched to an all-vegan menu. This represents a lot of challenges for the kitchen, but the technique here is very strong, and across a lengthy tasting menu there were no dud dishes. An asparagus dish was particularly good but so were desserts, which have always been a strength of Gauthier. Without doubt this is the best vegan restaurant in London.
I am also pleased to now be partnering with an innovative startup company called rezexe. Their idea is to allow customers to trade restaurant bookings. Now if a customer is unable to turn up to a restaurant, particularly to one where bookings are in high demand, they can sell the booking. That means they can realise some value from a reservation they made but cannot now use. Sellers find buyers via the rezexe platform. Buyers get to visit a restaurant they may struggle to reserve at, provided they are flexible on dates. Trading also very much benefits restaurants, since they no longer have to try and sell unused bookings themselves via calling up a possible waiting list at short notice. Incidentally, all trades have to be approved by the restaurant and all participants are identified via the payments system, so there is no "scalping" possibility here. It should be a win-win for people with bookings they can't use, people wanting scarce bookings, and the restaurants themselves, so seems like a good idea to me. The company is just launching and you will see a rezexe button appearing after my review for participating restaurants. This allows you to trade your booking should you wish. Do let me have any feedback on this new feature.