Mixed week in London
Saturday, December 16th , 2017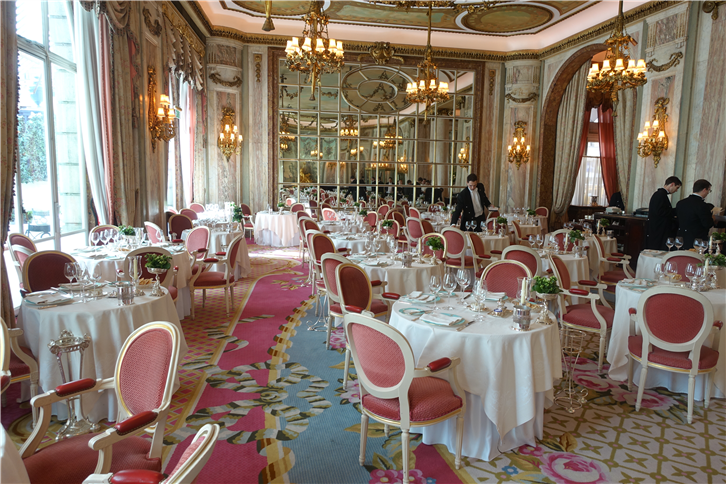 Xu is a Taiwanese restaurant in Soho that is from the same JKS restaurant stable as Bao, as well as several other very successful London venues. It has opened to assorted rave reviews but although the dishes that I tried were pleasant enough I struggled to see what the fuss was about at Xu. A noodle dish was fine, sea bass with chillies was pleasant but the gai lan that I tried was rather ropey. Pleasant overall, but this hype about the place seems to me to exceed the reality.
Bistro Vadouvan is a curiosity in Putney Wharf. It has an Indian born chef preparing French food with a mostly middle eastern twist. The savoury dishes we tried were pleasant enough, and one dish of brill was very good indeed, but the desserts let the side down. This is a tricky restaurant location, and the inconsistency in the cooking, not helped by a strange wine list, make it hard to unreservedly recommend.
The Ritz is a regular haunt of mine, with the grandest dining room in London and serving superb, meticulously prepared classic French food. The meal this week was lovely, with an exceptionally good langoustine dish, and an unusual and very enjoyable whole roast celeriac with black truffle sauce. The dessert section is one of the best in London, and the meal this week featured a lovely Mont Blanc.
The Michelin guide to The Netherlands 2018 came out. Inter Scaldes (in Kruiningen in the province of Zeeland) was promoted to three star level. The Netherlands now has a trio of three star restaurants, plus 16 two stars and 89 one star places.
Most of the Michelin 2018 guides are now out. The remaining ones are France, whichis due on February 5th, Scandinavia (probably February) and the Main Cities of Europe, which picks up assorted smaller cities not covered in the country guides, such as Budapest, Warsaw, Prague and Athens. Thus far the new 3 star places have been: Coi (San Francisco), Ultraviolet (Shanghai), Iida (Kyoto), Hajime (regained its third star in Osaka), Atelier (Munich), St Hubertus (Dolomites), ABAC (Barcelona) and Aponiente (Cadiz), as well as Araki in London and the latest, Inter Scaldes.