Reverting To Type
Saturday, August 23rd , 2014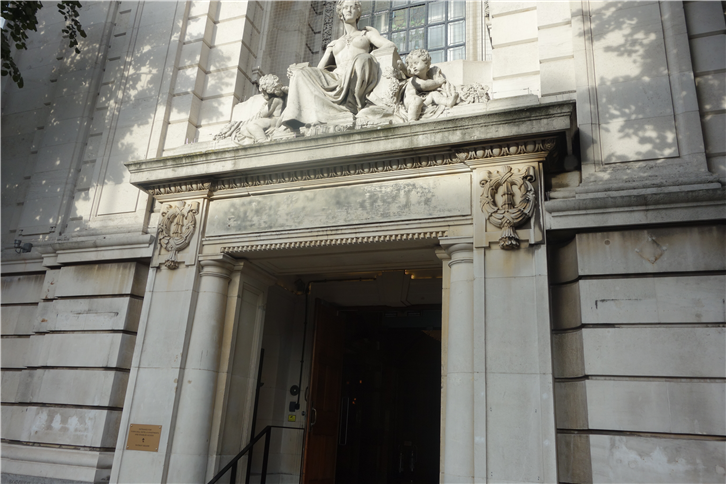 Typing Room has taken over from Viajante in the old Bethnal Green town hall (pictured). Chef Lee Westcott was head chef at Tom Aikens, and this pedigree showed through in a really fine meal. The dishes are modern and quite complex, with a lot of elements, but the chef is talented enough to make it all hang together. Even the pure vegetarian dishes, which are often an afterthought on menus, here are genuinely interesting and beautifully made. This is classy cooking, and I highly recommend it to you.
Lola and Simon is a curious local restaurant near Stamford Brook in a parade of shops. I have wandered past it many times, but was never tempted by the curious prospect of "Argentinian/New Zealand" cuisine, which sounded like something out of a comedy spoof. Now I will never know what this cuisine actually consisted of (bungee-jumped steaks raised on the pampas?) because it has now been taken over, and has become dramatically more appealing to me. The reason for this is the new owner, Andy Needham, formerly long-time head chef of Zafferano when it had its Michelin star. It is early days, but it seems that he will be sticking to what he knows best, serving classy Italian food, albeit in this more modest setting, and with far more modest prices than in Belgravia. We had an excellent first meal here and will certainly be back. It seems that the restaurant will briefly be closed for a refurbishment, and it is not yet clear whether the original name will be retained. However you will not often encounter food cooked by a chef of this quality at this low price point.
Royal China Club is sister to the highly successful Royal China restaurants in Baker Street and Queensway, this one aimed slightly up-market. As with my one previous visit here, although the service is definitely slicker and the ingredients more luxurious, I am not convinced that the cooking is one iota better than its cheaper brethren. The lobster tanks as you enter set the tone, and the food is certainly good, but I am not sure what really justifies the higher price here other than the more numerous waitresses.
High Road Brasserie is busy from breakfast until closing time, located in a prime spot on the Chiswick High road. The menu is appealing, the simple dishes consistently well executed, the service friendly, yet each time I come here I always seem to leave with a bill that seems disproportionately high for a pleasant but never dazzling meal. I am clearly in a minority judging by the endless crowds of diners queuing up to get in.
Amico Bio is something of a rarity, a entirely vegetarian Italian restaurant, reflecting the conversion to vegetarianism of its chef/owner. It has a friendly atmosphere, buried away in an obscure Smithfield side street. This was my second visit here, and much as I like the service and ambience of this little place, it was objectively a less good meal than my previous one. For pure vegetarian dishes to really work, the quality of ingredients needs to be high. In principle this should be the case here due to some of the products coming from the family farm in Italy once a week, but too many dishes at this visit lacked flavour.