Three new reviews including Bubbledogs
Saturday, November 03rd , 2012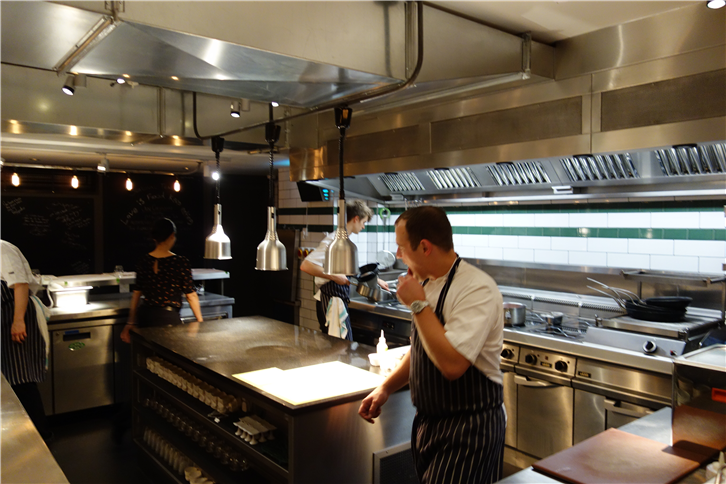 Banca is a large and evidently expensive Italian restaurant aimed at the prosperous Mayfair set. The cooking was better than I was expecting, with for example some excellent focaccia made in the wood-fired oven, and very good whole baby roast chicken. The restaurant design, for all the money lavished on it, felt a little odd, with tables awkwardly placed and the layout causing staff to run around more than should be necessary e.g. the hats and coats are kept at the opposite end of the restaurant to the door, meaning plenty of exercise for the meet and greet staff. However the food itself was really quite good, though the prices reflect Mayfair's position on the monopoly board.

Donostia is a pleasant tapas bar near Marble Arch, which delivered somewhat variable but generally good dishes when I visited. Pluma (pork shoulder) was nicely cooked, and the tortilla would have passed muster in San Sebastian, though some other dishes were not quite as good. However, overall this was a more than decent standard of tapas.

Bubbledogs (pictured) is effectively two restaurants: a bar area (with no reservations) serving just hot dogs and champagne, and a kitchen table at the back with a modernist-style tasting menu. The bar area has been dazzling successful, skilfully marketed and heaving when I visited, with queues out of the door when I arrived and when I left. The kitchen table is a more serious culinary affair, with its chef having worked at top restaurants around the world. It serves a no-choice tasting menu with all the latest culinary boxes ticked: foraged ingredients, duck hearts on the menu, raw fish with unusual garnishes. This aching sense of fashion consciousness would normally be a red flag for me, and certainly there was some inconsistency, but the chef is skilful enough to carry things off. A venison main course and a scallop dish in particular showed fine culinary skill. This was still early days, and the kitchen is still evolving, but already it is delivering to a high standard.

The Watermans Arms is a riverside boozer in Brentford without a river view, serving Japanese food cooked by an Englishman: not, on the face of it, a winning proposition. Yet in fact the Waterman Arms is a rather charming little place, with the chef/owner working on his own in the kitchen to knock out a mix of pub food and Japanese dishes. The oriental connection comes from the years he spent living in Japan (he has a Japanese wife) and although this is not the most sophisticated Japanese cooking in London it is hearty and enjoyable. Noodles with chicken were good on this visit, as was a pleasant if under-spiced Japanese beef curry. As a bonus the bill is almost absurdly low - £18 a head including drinks for more food than we could finish. If you are in the area then you could do a great deal worse.

Royal China was the restaurant that really raised the game for Cantonese restaurants in London, producing food of a higher standard than the Chinatown clichés that Londoners had assumed was all that Cantonese food consisted of. In its barn-like new layout the kitchen continues to crank out remarkably consistent dishes. Old favourites like steamed sea bass with black bean sauce always arrive immaculately cooked, as it did on this revisit. The cooking of vegetables is a strength here, as shown in delicate bak choi steamed with garlic. Even the service seems a bit more cuddly these days.