The Opera Tavern reviewed
Saturday, March 19th , 2011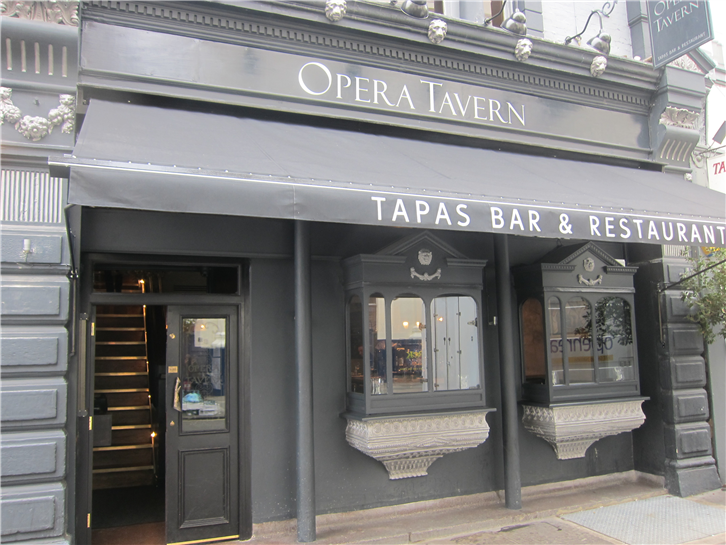 The Opera Tavern (pictured) is sister to Salt Yard and Dehesa, and delivers the same good quality and moderately priced tapas as at its siblings. Over two meals, one dinner and one lunch, I was able to try a fair proportion of the menu, and the general standard was consistently high, with good quality pork in particular in evidence in several forms. It is particularly nice to have a decent restaurant in Covent Garden, which has long been home mainly to tourist rip-offs. However in recent times we have seen Terroirs, Les Deux Salons, Dishoom and now Opera Tavern open, and raise the culinary bar for the area.
Chabrot Bistrot was altogether less consistent, though its savoury dishes were generally very good indeed; however its desserts were a let-down. This is not somewhere you are likely to stumble across by accident, down an alleyway in Knightsbridge, but the chef has serious credentials and it will be a place to watch as the kitchen settles down.
Atari-Ya, the top supplier of fish to Japanese restaurants in London have now directly taken over Sushi Hiro in Ealing (now renamed Atariya), which was always an excellent, unassuming sushi venue. Never a venue noted for its décor, this functional place continues to produce high quality sushi at a very fair price indeed.
I can resist anything except temptation, and Franco Manca is hard to walk past; its softly textured Neopolitan pizzas are superb, all for a price lower than the high street chains. No wonder they are already planning further openings.
Michelin brought out its final guide of the season, its "Main Cities of Europe" guide. This is mainly of interest because it covers various countries that do not have their own country guide, primarily in Scandinavia and Eastern Europe. There was no change at the two star level, but some new one star restaurants: Olo in Helsinki, Onyx in Budapest and Thörnstroms Kök in Gothenburg. In Copenhagen Bo Bech and Faustian lost their star, as did Carma in Helsinki and Haga in Oslo and Sjomagasinet in Gothenburg.

The new version of the wine app made it to the iTunes store this week. This version (a free update) is intended for people travelling. The app auto-locates the country in which you are staying and switches to the appropriate currency, and now lets you compare the wine prices in a restaurant with those shops in the local country as an alternative to the global average price, which is what it currently defaults to. Sounds useful? Download now.