I try Kai and the new Marcus Wareing
Saturday, February 07th , 2009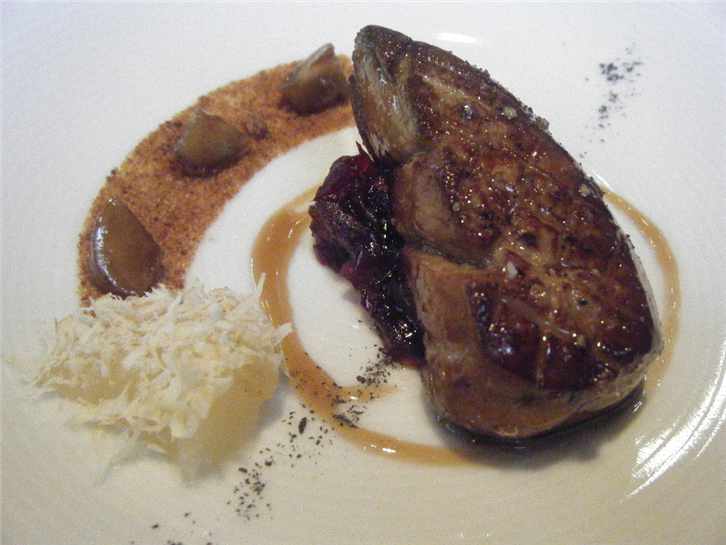 The
Royal China
is one of my regular haunts, perpetually bustling, serving consistently excellent Cantonese food amongst the surreal 1970s disco style décor. Szechuan prawns were stir-fried, tender and served with a tomato and chill sauce that was milder than it would be in true Szechuan cooking. Steamed gai lan (Chinese broccoli) with garlic is a great dish here, the green stems cooked just enough in the steamer, arriving piping hot, crisp and with lovely flavour, with just a hint of garlic.
It was interesting to contrast the meal at Royal China with
Kai
, a very different kind of Chinese restaurant which Michelin has recently awarded a star. In a basement in a posh Mayfair street, the menu here has elaborate descriptions and prices that are breathtaking, with something as simple as hot and sour soup at £11 and Peking Duck at a jaw-dropping £118. I must admit that I went in expecting to hate this place, but I did not. Partly it was the entirely capable cooking, though I would still prefer Royal China at a fraction the price, or Hakkasan if I wanted an up-market experience. The main reason to like Kai was the service, usually a weakness in Chinese restaurants. Here it was very good indeed, with remarkable attention to detail in the topping up, and genuine warmth of welcome that surprised me. The prices are surreal, yet it is hard to argue with the commercial logic as the place was heaving on the weekday we visited, both in the basement and on the ground floor. I can only assume that Michelin's decision to award a star in 2009 is connected with the service rather than the merely pleasant cooking.
Marcus Wareing has had a much publicised divorce from Gordon Ramsay holdings, and is now operating under his own
name
at the Berkeley Hotel. The room is unchanged, and indeed very little appears to have been modified other than some small changes to the wine list and a new restaurant manager. I tried the tasting menu this week (the foie gras dish in this menu is illustrated) with a very knowledgeable diner. He is an ex-Egon Ronay Inspector, and I have to say that both of us were less than thrilled. There is nothing to fault in the technique, but I found several dishes had over-complex flavour combinations that did not entirely work together. Marcus seems currently enamoured of the modern technique of food powders, which kept popping up to no positive effect throughout the meal. Flavours can be quite muted, as in a parsnip remoulade that was cut so thin that its flavour was barely identifiable. I am not convinced that throwing more and more garnishes at a dish improves it, and I would be surprised if Michelin (the presumed audience for this) really thinks it does either. I found this meal relatively disappointing precisely because Marcus is such a talented cook, and I remember his clean-flavoured dishes at his old restaurant years ago so clearly. I wish he would go back to a simpler style and apply his considerable abilities to bringing out the pure flavours of the ingredients.
My interview on Market Kitchen aired OK last week, albeit with some of the editing which I am getting used to now from TV companies. For some reason they cut my comments about Can Fabes, and what I thought was a good contribution from chef Jan Tanaka about visiting the 3 star restaurants being a chef's dream. Otherwise it was fairly intact.
Outside South Audley Street, the recession continues to take its toll. In total in 2008 Price Waterhouse Coopers reported (in their Hospitality and Leisure report) that 363 restaurants closed, a rise of 32% over 2007. Of these, 141 folded in the 4th quarter. Given that the credit crunch really only got going around September 2008, it does not bode well.
One innovation aimed at the recession is the "no price list" at the Little Bay in Farringdon, which apparently now asks customers to leave what they feel the meal was worth, with fixed prices only for the drinks. Those with long memories may recall this was tried once before at a Barnet restaurant called Just Around the Corner, which lasted a while though it eventually closed. It is certainly a bold (foolhardy?) and interesting approach, but one I can't see being copied any time soon at, say, Sake No Hana or Nobu.