Bruno Loubet returns to London
Saturday, March 06th , 2010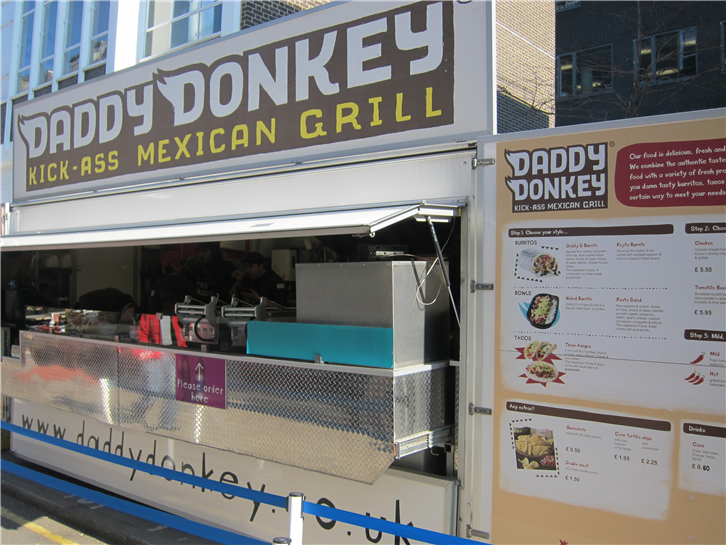 I had such high hopes of Bistro Bruno Loubet, given that I enjoyed his cooking years ago at the Four Seasons and Bistro Bruno, though admittedly less so at l'Odeon and Isola. After nine years in Brisbane he has returned to London at the Zetter hotel. Sadly this seems to be a strictly money-making operation given the low food costs and relatively high prices on display. At least I had hoped for consistently good cooking, which had certainly been a trademark of Bruno in the past, but the meal I ate this week featured a surprising absence of seasoning in dishes that badly needed it, as well as other issues in what I found a dispiriting meal. Perhaps there is an analogy with Orson Welles, who began his film career with Citizen Kane, continued with fine films such as The Third Man and Touch of Evil, but as his career progressed managed to make steadily less successful movies. Just as lovers of Welles might be well advised to stop at Touch of Evil before continuing onwards in his filmography, perhaps it is best to remember Bruno Loubet's fine work in his youth at the Four Seasons rather than spoiling things by dwelling on this current venture.
After a distinctly shaky start, Alain Ducasse at the Dorchester seems to have found its stride. The desserts here, even on the opening night, were always top drawer, but this week the savoury dishes reached a generally consistent high standard. Just one slightly faulty dish let down what was otherwise a very solid meal indeed. Saucing in particular shows the classical French technique to its best, ingredients are good, and presentation attractive. While I am far from convinced that this would get three stars in Paris, based on this meal Ducasse seems to me to already have surpassed the cooking at Gordon Ramsay and the Waterside Inn, so by UK standards at least I can now understand Michelin's rating. The price is hardly a bargain, but at least now one feels that something serious is being delivered for the money. The desserts were, if anything, even better than before; these would be three star level anywhere in the world.
I'm not quite sure what it is about Kings Cross and an obsession with local ingredients, but there are two restaurants there which try to source almost all of their ingredients from the Greater London area. One is Acorn House, which I have yet to visit, while the less publicised one is nearby Konstam. Although there was some unevenness in the cooking, this felt like a very genuine place, with enthusiastic staff and a very good pork belly dish in particular. Moreover the prices are very fair indeed in what is admittedly a pretty uninspiring location.
This week at Franco Manca I tried the home-cured Gloucester Old Spot pizza this week, which was excellent. The attention to detail here is very good: for example the espresso coffee here (a blend from Monmouth Street coffee shop) is better than at many high-end London restaurants. I went with my friend Mikael Jonsson (of the excellent Gastroville blog) who for many years has lived in Monaco and has eaten extensively in Naples; he thought Franco Manca was highly authentic. Michael reckoned there was just one place he had tried in all of France (in Marseilles) that was of a comparable standard.
Rasa Maricham continues to produce capable Keralan food in the surreal setting of the Holiday Inn Kings Cross. The vibrant spicing must come as a shock to the travelling salesmen staying here looking for a comforting BLT sandwich. I particularly like the Mysore bonda here, but the vegetarian dishes in general are excellent, while the service is very good indeed.
I don't usually deal much in street food in London, which seems mostly to trade in kebabs and burgers of dubious provenance. However I have been given several recommendations (hat tip to AC for the first one) to visit a stall selling good Mexican food near Chancery Lane. In the unpromising location of the rather seedy Leather Lane market, the stall Daddy Donkey (pictured) serves up burritos and tacos. Unlike so many London versions of Mexican food, where the dishes often look like they have been sitting under a heat lamp for an indeterminate period, the dishes at the stall are made to order, tasted fresh and featured good guacamole in particular. Of course this is just simple food, but the standard was actually a lot higher than in many supposedly highly thought-of London Mexican joints. Perhaps I should just give up on finding a Mexican restaurant in London and come here (open 11:00 – 15:00 weekdays only).
I was intrigued by a campaign that has just started called "Who Gets The Tip?". Many diners may assume that a service charge goes automatically to the waiting staff, but in fact this is far from the case in plenty of establishments. In some cases the tip is split between the waiters and the restaurant, and in all too many cases the management keep the lot (I usually leave tips in cash unless the waiters confirm to me that they get the tips). At present this is a very opaque issue to the customer, and so the idea of getting restaurants to publish their policy seems a positive step forward. The restaurateurs who read this site might like to take a look at this: