Visiting Toyama and Kanazawa
Monday, April 24th , 2017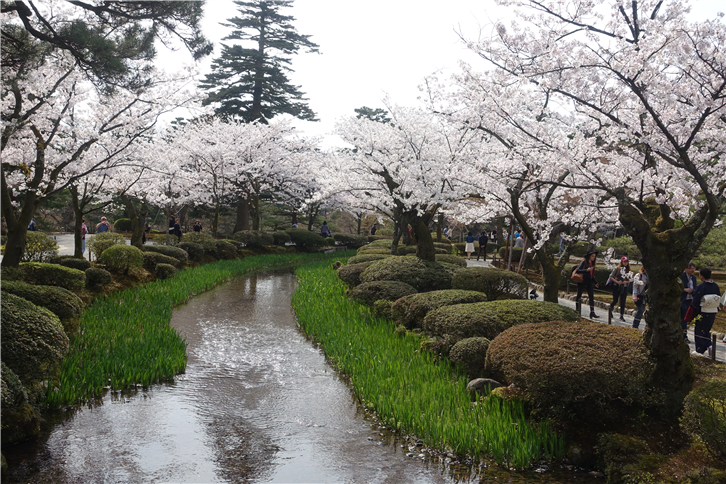 The cities of Kanazawa (with 462,000 inhabitants) and Toyama (422,000 citizens) are northwest of Tokyo on the north side of Honshu, the main island of Japan. There is a quite recently launched very fast Shinkansen train service linking these cities to the capital. Tokyo to Toyama now takes two hours and 8 minutes for the 345 km (214 miles) distance, and Kanazawa is a further 23 minutes to cover the 65 km (40 miles) between these cities, though there are also slower and cheaper services. This being Japan, those times are precise, the trains rolling into each station at the exact moment that they are scheduled to be there. Kanazawa has a large restored castle and a famous garden, rated one of three finest in all of Japan. We were lucky when we visited and caught the end of the cherry blossom (pictured), which was spectacular given the huge numbers of cherry trees in and around that garden. Toyama has somewhat less to offer a visitor, though it also has a partially restored castle.
Michelin produced a one off "special edition" guide in mid 2016, whose star ratings expire a year after publication. In Kanazawa I tried a one star tempura restaurant called Koizumi, a tiny affair located in what appears to be someone's house in a residential street, seating just nine diners around a counter. This was good, with light batter and excellent ingredients used.
In Toyama we tried Ebi-tei Bekkan, a two star kaiseki restaurant where the waitresses are in traditional dress. This has a room with sunken seating and also private dining rooms, and has been operating for 150 years. The ingredient quality was high and there were some nicely presented dishes. In particular a blackthroat sea perch dish had great flavour, and there was a superb loquat jelly dessert. We also tried Takano, a pleasant one star tempura restaurant, the ingredients of a consistently good standard.
The only restaurant in the region awarded three stars was Yamazaki, another traditional kaiseki restaurant. This was a quite formal meal, with the waitress in traditional dress. The presentation was very pretty and some dishes were quite good including a nice hot egg custard, but there was also little that was particularly striking. It felt like a notch or two below the level of the kaiseki places in Kyoto.
If you are planning a visit to this area then bear in mind that foreign visitors are a relative rarity, so unless you speak Japanese then there is a language barrier. In theory Japanese learn English in school much as British children learn French, but they have little chance to practice it outside of major cities like Tokyo, which has a significant expatriate population and lots of visitors these days. Hence any complex requests can be a bit tricky, though the Google Translate feature on your phone can help here. Otherwise the language skills of the young are generally better than the elderly, and people are by nature very helpful in Japan, so things will generally work out. Certainly it is interesting to see life in Japan outside of the familiar cities of Tokyo and Kyoto that most foreigners visit. The unfailing helpfulness of people to strangers comes through just as it does elsewhere in Japan, with people going well out of their way to help visitors find things. It is a most welcoming country to foreign visitors.