Wine and Food in London
Saturday, February 13th , 2016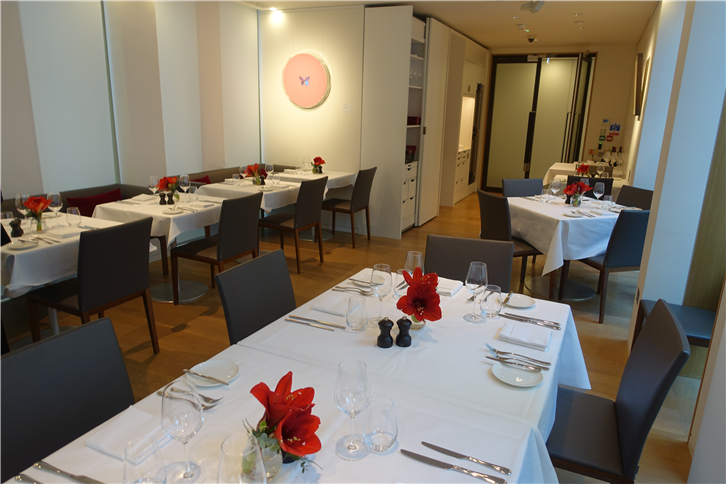 Taillevent 110 is the younger sister of the wine bar of the same name in Paris, itself an offshoot of the iconic Paris restaurant Taillevent. It features no less than 110 wines by the glass, also available in small 70 ml tasting measures. This allows you to try a range of wines at all levels, some of them quite grand bottles. The food here is classical French and is especially good at the dessert stage; they have a pastry chef here imported from Paris who can really cook. The bill here can mount up quickly, but that is due to the highly tempting wine list. The food is not excessively priced given its standard, and the wine mark-ups are not particularly unkind, but it is easy to get carried away if you are a wine lover.
Bonhams was my favourite London opening of 2015, and Tom Kemble continues to produce top-notch food here, thoroughly deserving his Michelin star. Just as at Hedone, where he worked previously, there is an emphasis on high-grade ingredients, and his cooking style is clean and precise. Attention to detail is shown in the excellent sourdough bread, made from scratch and getting better and better. As a bonus, the wine list is the best value in London. Bottles at the pricier end of the list are typically around their retail price, something unheard of in the capital, where mark-ups of three, four times retail and more are the norm. The restaurant was originally open only on weekday lunches, but they have recently extended this to Wednesday and Thursday evenings.
The Brilliant has been a Southall stalwart since 1975. It has expanded several times but still serves excellent Punjabi food, mostly to the Asian families that live in the area. Portions are consequently family-sized, but the staff will happily pack up any food that you cannot finish. There are many consistently good dishes here, such as the butter chicken, but I am especially fond of the murgh methi, with its rich fenugreek-laced spicy sauce. They are one of the very few restaurants in London to serve romali roti, thin bread cooked briefly on a steel hemisphere folded over itself many times. The Brilliant serves some of the most reliably good Indian food in London, and at a very modest price.