A week in Hong Kong
Saturday, April 26th , 2014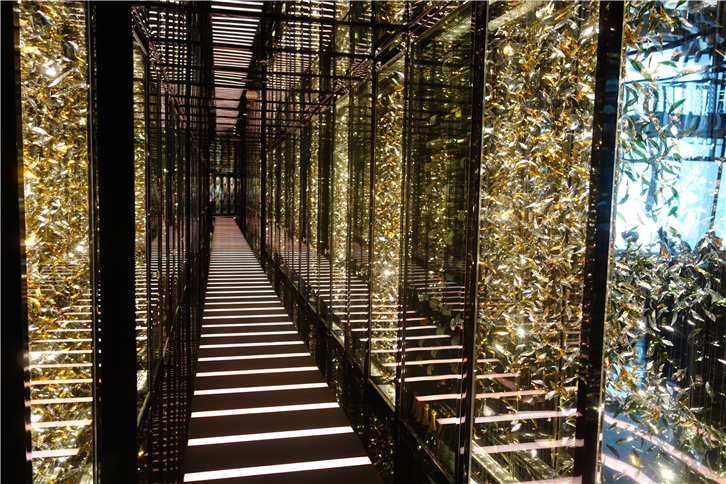 The latest three star Michelin restaurant in Hong Kong is Sushi Shikon, the sister of the superb Sushi Yoshitake in Tokyo. All the fish is imported from Japan, and every aspect of a Tokyo restaurant, from the impressive wooden counter (carved from a single block of wood) to the collection of sake to drink. The meal was great, in every way up there with the original Tokyo restaurant. With all the costs of flying the fish in, the price here is very high, but it delivers a top class sushi experience. I have no issue with this restaurant having three stars.
Another excellent Japanese restaurant is the quite new Wagyu Takumi, which despite its name is not a steak house but served modern kaiseki cooking with a distinct French influence. Another tiny restaurant in the Japanese style, the cooking here was genuinely classy, with white asparagus with beef tongue, and barley risotto with abalone two highlights of a fine meal. This is a proper two star restaurant.
I wish I could say the same of Pierre, the Gagnaire outpost, where only desserts flickered close to two star territory, and where the rest of the meal mostly hovered on the borders of one star level, and in some cases was less good than that. After such a fine meal at Pierre Gagnaire in Paris recently this was particularly disappointing.
Another Michelin mystery was Ah Yat Harbor View, a popular and perfectly pleasant Cantonese restaurant roughly of the culinary level of Royal China in London. The view is great, the prices acceptable, yet this has two stars; I have absolutely no idea why. By contrast, Tin Lung Heen is another restaurant with a view that has the same rating yet was vastly better. In particular there was a lovely fried rice dish and particularly good barbecued pork dumplings. With its perch on the 102nd floor of the ICC tower, this has a panoramic vista over the harbour, as well as a pretty glass corridor (pictured).
Yah Toh Heen also looks out over the water, but in this case at ground level. It had particularly good dim sum, amongst the best I have eaten, with delicate dumplings and good quality ingredients. Service was also unusually good here, and I would happily return. Finally, I popped in for some tapas to 22 Ships, a Jason Atherton venture that has a new chef, Nate Green. This is a much more casual affair catering to the trendy young things of Hong Kong, and is wildly popular, with a lengthy queue of diners when we visited. Apparently demand is such on weekends that customers can wait for up to two hours for a table.
In my Michelin quest I now have just three restaurants remaining before I have caught up entirely with every current 3 star restaurant in the world (there are 110 at present). Still to go are De Leest in the Netherlands, Assiette Champenoise in France and Uberfahrt in Germany.