A visit to Calcutta
Saturday, February 27th , 2016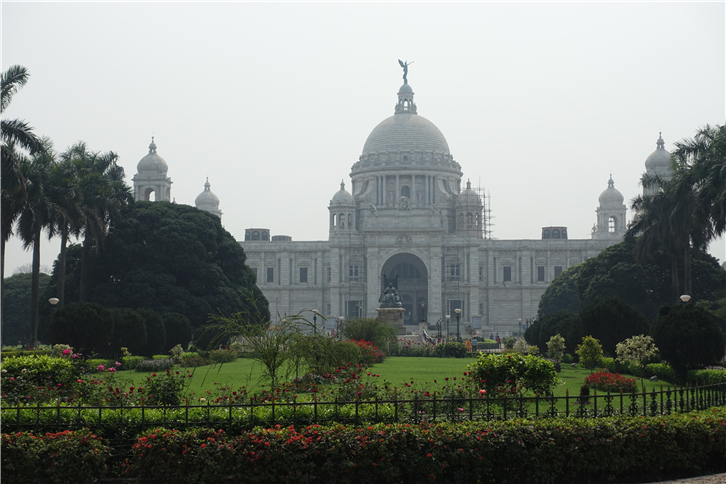 Calcutta, which these days is spelled Kolkata, was from 1772 to 1912 the capital of India under the British. It is in the northeast corner of India in the state of west Bengal, not far from the border with Bangladesh. These days it is a sprawling city of 13 million souls, a fraction more even than Delhi (depending on which source you believe). As a tourist its main appeal is the collection of historical buildings, such as the Victoria Memorial (pictured). These are conveniently grouped together in one area, many of the old colonial buildings now being government offices or law courts. There is also a particularly pretty Jain temple called Sheetalnathji in the north of the city. Traffic is as chaotic as in other large Indian cities, but getting about is inexpensive. A taxi journey of 7 miles taking over half an hour cost me the princely sum of £2 in one of the plentiful yellow Morris Oxford cabs that operate here.
The cuisine of Bengal is rather different than the ersatz Punjabi food that those living in the UK are familiar with from most UK "Indian" restaurants, over 80% of which are in fact run by Bangladeshis. Bengali cuisine features quite a few fish dishes and uses coconut as the basis for some sauces. Its vegetarian dishes can be rather distinct too, with ingredients such as banana flowers used in one Kolkata speciality curry. It also has a different style of biryani from the Hyderabad one, which is mostly what we find reproduced in the UK. This was my 18th visit to india, and it is intriguing to witness its very visible economic development during that period. One negative aspect of that as a tourist is the choking traffic in the big cities, to which Calcutta is no exception.
The Sonargaon is the flagship Indian restaurant of the Taj hotel, where we stayed on this trip. It serves a mix of North Indian and Bengali food, such as a prawn curry with coconut-based sauce and fish steamed in banana leaf. The food here was very pleasant, the yellow dhal particularly good, though it was far from a cheap experience. Just as in Mumbai, the high prices in luxury hotels do not seem to deter the customers these days, virtually all of whom appeared to be successful locals rather than foreign tourists.
"Oh! Calcutta" has a good local reputation and has now spawned additional branches elsewhere. The original premises are in a shopping mall and offer a vast menu of Bengali dishes. The kitchen cooked a particularly good malai tikka dish, though the overly intrusive service was a real distraction, the waiters anxious to serve additional portions after what seemed like every mouthful. The standard of food was rather erratic, though the meal was certainly good value.
Kewpie is another local Bengali restaurant located in the ground floor of a residential house. It offers a variety of thali menus, mostly vegetarian but with a few fish or meat dishes available too. A fried fish dish was pleasant, and the luchi puffed flat bread was nice, but some other dishes were remarkably bland, and the set menu repeated some elements. The waiters were friendly and the room had a suitably homely atmosphere, but although it was very inexpensive to be honest it was no more than very ordinary. By comparison the Bengali dishes at the current London pop-up Darjeeling Express, run by Asma Khan from Calcutta and open at The Sun & 13 Cantons pub until 19th March, are vastly superior. Kewpie has built up a good reputation over the years, so perhaps it was better at some point in the past, but it was hard to see what the appeal was based on the meal tonight, and the almost empty dining room on a Thursday suggests that I am not alone in this view. As the character Sergeant Apone says in the movie 'Aliens': "Whatever happened here, I think we missed it."
ITC hotels have built a reputation acrss India for unusually good hotel restaurants, operating two high-end indian offerings places within their major city hotels under certain common brands. Hence the Peshawri northern Indian Restaurant is in the ITC Kolkata, but also in the ITC Mumbai etc. Peshawri serves the robust Punjabi food of the north west frontier, with an emphasis on tandoori cooking. The restaurant here was excellent, serving very good murgh malai tikka and a lovely tandoori cauliflower dish, as well as good dhal. However the star dish was fish tikka using bekhti, the local name for barramundi. This is a high quality fish reminiscent of sea bass, and the version here was superbly cooked, with its slightly sweet flavour nicely balanced by the spicy marinade and smokiness from the charcoal tandoor - it was simply the best fish tikka that I have ever eaten. The restaurant was so good that we actually cancelled a planned visit elsewhere on our last day and came back here.
Dum Pukht serves more elaborate and subtle dishes, based on the cuisine of Lucknow in northern India. This includes slow cooking in a sealed pot (a "dum"). The food here was of a high standard, the star dish being a pulao of Kashmiri morels in which the rice was particularly delicate and aromatic. The atmosphere was a little stilted, the room unnecessarily dark and with truly teeth-clenching music playing, but the cooking was certainly very good. Again, though, this was far from a cheap experience. Just as in Delhi and Mumbai, is a reflection of the ever expanding Indian economy, meaning that the growing middle class here seem willing to support pricing levels in luxury hotels that might seem high even in Mayfair.
Overall, Kolkata is a bit off the beaten path in terms of tourism compared to Rajasthan, Goa and Kerala, but has some interesting history and a distinct cuisine of its own that makes an interesting change from the Indian food that is normally served in London.