The Quality Chop House is reborn
Friday, December 07th , 2012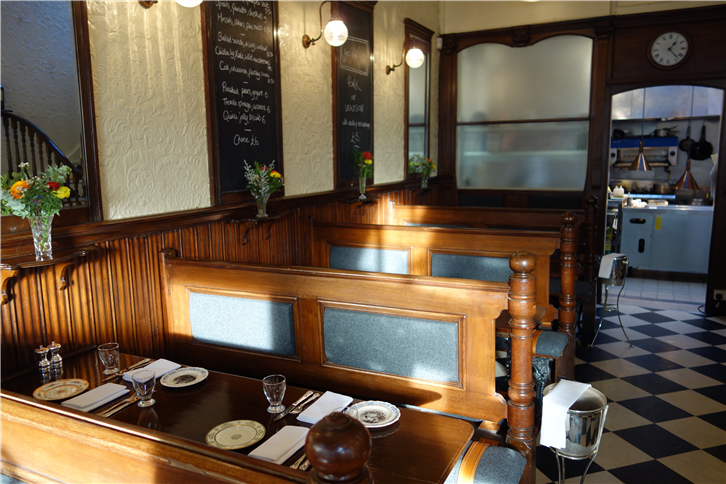 The Quality Chop House (pictured) has a long history, so it was sad to see it close a couple of years ago and change hands. Now it has been re-launched under the original name and with a particularly interesting and kindly priced wine list. The food was good even a few days after the re-launch, and I imagine that the wine list will attract a new set of customers who would like to drink well with their meal and don't want to pay the conventional high London mark-ups.

Bradleys is a neighbourhood restaurant whose cooking is rather better than you might reasonably expect from such a place. Its chef and owner had good classical training, and the cooking was as good this time as I remember it from a visit many years ago. The only thing that let the place down a little was some rather shoddy service on this visit, but the cooking was fine.

Zafferano has long been a favourite of mine, and I have been coming here regularly since it opened in 1995. Its loss of a Michelin star this year is puzzling to me, as I have not noticed any change in the cooking standards, the chef is unchanged and indeed it has been an unusually consistent restaurant in my experience. Sadly the chef Andy Needham has been prompted by the loss of star to move on, and at this point the no new head chef has been appointed. I went there for one last time with Andy cooking, and had an excellent meal: bruschetta of porcini were lovely, as was a pumpkin risotto and lamb encrusted with breadcrumbs and hazelnuts.

Gordon Ramsay is one of London's pair of three Michelin star restaurants, under the watchful eye of head chef Clare Smyth. I very much enjoyed the tasting menu that I ate there this week, which throughout showed very high quality cooking technique and some very attractive presentation (see the review for photos). Of course with any long menu there will always be relative some highs and lows, but the best dishes were very good indeed, such as a warm foie gras dish with particularlyhigh quality foie gras, and some unusually good sweetbreads in another course.

Hedone continues on fine form at present, also delivering a lovely tasting menu. Highlights included hare Royale with remarkably delicate foie gras mousse, and some superb red mullet with artichoke. As ever, ingredient quality here was of the highest standard. The weekend (Friday and Saturday) lunch menu at £25 for three courses is exceptional value, but the tasting menu is the way to go here to really experience the best of the cooking.

The Hong Kong and Macau 2013 Michelin guide came out. Continuing in the restrained fashion of this year's guides, there were no new three star restaurants, though there were five new two stars in Hong Kong and one in Macau. In all, there are a dozen two star restaurants in Hong Kong and four in Macau. There are 44 one star restaurants in Hong Kong and two in Macau. The fully updated list of 3 star restaurants is here. It was interesting that two high profile Japanese restaurants have opened here: the superb Ryugin has opened a branch on Hong Kong and was dazzling when I went a little while back; it received two stars immediately, and in my view should be three. Sushi Yoshitake also opened, and received two stars; I have only been to the Tokyo version, but this is superb. Other new two stars were Ah Yat Harbour View, Summer Palace, Tin Lung Heen and Golden Flower in Macau.

The only remaining European 2013 Michelin guides are those to France (due end February 2013) and the Main Cities of Europe guide, which covers Scandinavia and other European cities with no country guide. This usually comes out at the end of March. In 2012 there was also a Hokkaido guide in April, so presumably this will follow similar timing in 2013, and there is supposedly going to be a new guide to Hiroshima, due in May. If so, then the window of publication of new Michelin guides stretches ever longer, stretching from early October to May. Thus far there have been just four new 3 star restaurants globally, though clearly there is further potential here from the remaining guides.