A dismal experience at Chez Kristof
Saturday, January 03rd , 2009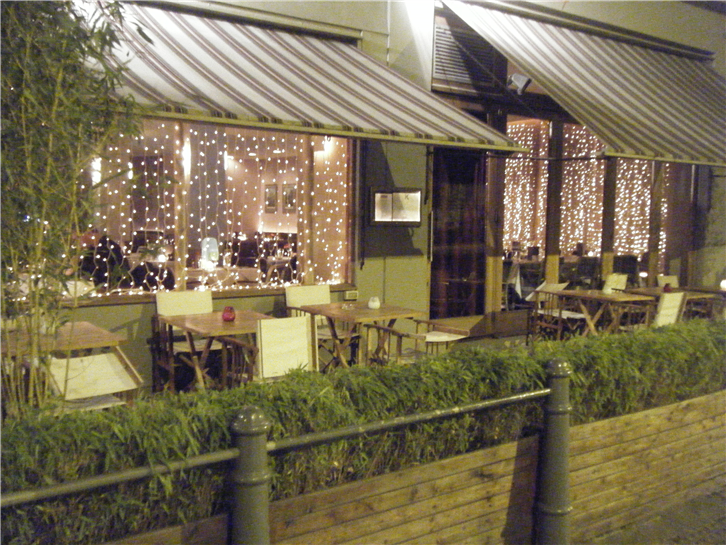 Hammersmith Grove has the ring of some idyllic arboreal paradise, when the reality is a busy street of offices and a few houses off the Goldhawk Road. In a similar vein,
Chez Kristof
(pictured) sounds vaguely like a French bistro but is actually owned by the people that brought you Baltic, an Eastern European restaurant which has the distinction of being the only place I have ever sent all three courses back, and Wodka, an unashamedly and decent Polish place in Kensington. Perhaps Polish food is harder to sell than French food (a fair bet), but what they have done here is to write a French menu and get an untalented Polish chef to try and cook it. Maybe he can make good pierogi, but he certainly cannot make tarte tatin. The food here was really dismal, from a watery soup that would not fare well by comparison with a decent supermarket version, through to a miserable vegetable stew and finally to a pair of desserts so bad that a spoonful of each was all I could manage. I reckon that I could throw a stick in any French town and hit someone who could cook better than this. At least the French waiter was suitably embarrassed about the cooking; indeed the friendly and helpful waiters were about the only redeeming feature of the place for me.
The Duke of Sussex
is a Chiswick gastropub with an appealing menu, fair prices (many starters are less than £5, mains mostly £12 or so) and an authenticity that one rarely encounters in such places. Above all they make their own bread every day from scratch, something that endears the kitchen to me, even more so given that the bread is actually good. The hearty dishes that appear on the winter menu are served in very generous portions, and I was unable to finish two courses here this week. Now if this place can make its own bread, I continue to wonder why Gordon Ramsay at Royal Hospital Road cannot be bothered. The meal here was much cheaper than Chez Kristof, as well as being the little matter of vastly better.
The
High Road Brasserie
is a highly successful outlet of the Soho House group. Situated in an almost ideal spot in a prime part of the Chiswick High Road, the place is busy from breakfast through to dinner. A meal this week featured a nicely cooked trio of scallops with bacon and Jerusalem artichoke puree that had good flavour. A simple burger and chips was also well made. This is the kind of food which the kitchen delvers – fairly appealing, simple, not over-ambitious food which is therefore consistently delivered by the kitchen. Prices are a little high for the quality of the food, but not excessively so, and the constantly busy tables demonstrate that the pricing is not putting off customers, even in this economic climate.
Agni
was an above average Indian restaurant in Hammersmith. Although King Street has a host of curry places, they are all pretty ordinary, and this was perhaps the best of the bunch. It was prone to inconsistency, which is why it did not become a regular haunt for me, but at some time in the past couple of months it has gone to meet its maker.
The coverage of my Michelin tour continued this week with:
A full
page
in the Daily Mail.
and a radio interview on the Sean Moncrieff show on Newstalk Radio, as well as an interview on National Public Radio in the US (which airs on Monday). The various UK articles have been referenced in such bastions of food journalism as the San Jose Mercury News and the LA Times, and as far afield as Forbes Korea.
The coverage has driven many new visitors to the site – on the 30th December 14,262 unique visitors came to the site, the most ever. Less than a quarter of these were from the UK.
I wish you all a very happy New Year.