Some new and generally disappointing London restaurant openings
Saturday, April 05th , 2014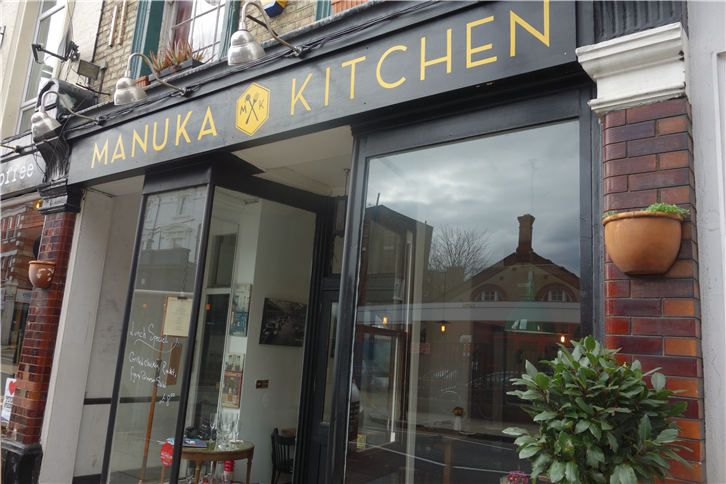 Assado is the latest venture from Cyrus Todiwala, this time mixing Portuguese dishes in with his trademark Goan cooking. Custard tarts were very nice, but the savoury dishes were not of the same standard, and although a pork vindaloo was decent a starter soup was really poor. After a mediocre meal at his Hilton venture Mr Todiwala's Kicthen recently I wonder whether he is stretching his brand a bit too far.
Manuka Kitchen (pictured) is a Fulham eatery that has had some positive reviews, and I was curious to try it out. Whether the absence of the head chef at my visit was significant I cannot be sure, but a lunch that I had there was harmless but entirely without any excitement, with pretty basic ingredients and minor cooking errors. It is a decent enough local restaurant, but no more than that based on this visit.
Pho is a successful little chain of restaurants serving Vietnamese food at modest prices. The soup that gives the restaurant is name was indeed very enjoyable, though a "tiger prawn" salad featured tiny prawns that were not some much tiger as kitten. Still, at the modest prices charged the meal I had was good value and enjoyable, and this new Chiswick branch was pretty much full on a Monday lunch just days after opening.
My 46th meal at Hedone was as good as ever, a highlight at this meal being stunning new season Luberon asparagus. The quality of this was remarkable, and is an indication of the degree of obsession that Mikael Jonsson has in terms of using top class ingredients; this asparagus had a wholesale price of almost £40 a kilo, many times that of top English asparagus. Other fine dishes in this meal included lovely turbot, liquid Parmesan ravioli and a superb scallop dish. My very well-travelled dining companion thought this meal was firmly in three Michelin star territory.
The Elite Traveler Top 100 Restaurant list came out this week - my thoughts on it are here.